Omaha, Nebraska is by all accounts a great place to live! If you're looking to buy a home here, there are certain neighborhoods you'll want to be sure to take a look at — we know you'll fall in love with their reasonably-pricing homes, low crime rate, and sense of community.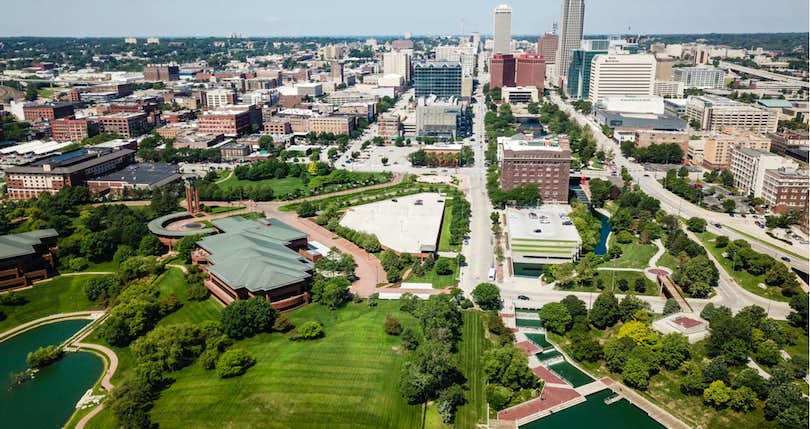 When moving to a new area, it can be difficult to get a feel for the right neighborhood. Will you and your family wake up to a drug bust down the street? Or will the neighborhood be too eerily perfect like a scene from the Stepford Wives?
If you're looking to relocate to the Omaha, Nebraska area, rejoice! Omaha is consistently at the top of "Best Of" lists — including Livability's list of Best Places to Live (ranked 20th), U.S. News & World Report's Best Places to Live (ranked 32nd), and Forbes Best Places to Raise a Family (ranked 7th), and Yahoo Finance's Best Affordable Places to Live (ranked 15th). But, as midwesterners, they're not ones to brag. (Unless we're talking about Husker Football. In that case — Best. Team. Ever. Go Big Red!)
While Omaha has a pretty low crime rate for such city of its size (nearly half a million in population), as with any city, there are bad neighborhoods and good. These five hit the top of our list.
»FIND: Top Real Estate Agents in Omaha
Moving to Omaha?
Find the right neighborhood with a Clever Partner Agent.
Benson
If you've often been tagged as "artsy," you'll fit right in in the Benson neighborhood. It's perfect for those with a creative flair, featuring loads to do and homes that are affordable for the often unappreciated (financially, anyway) foodies, artists, musicians and music lovers of the world.
Coffee shops, local restaurants, and places to imbibe are plentiful in the area and the average age of its residents is just 34. The Benson 'hood essentially spans from 72nd to 52nd streets and Western Avenue to Pratt Street. Home values are around $120,000, on average.
If you have young children, the area is home to six elementary schools, three middle schools, two high schools, and two private and charter schools, all of which receive high rankings. Walkability is decent, with a mid-range ranking of 57.
Old Market
Omaha's most historic neighborhood, the Old Market sets itself apart from the rest of the city with its cobblestone streets and entertaining nightlife. The neighborhood spans from 14th to 10th streets and Leavenworth to Farnam streets.
If you're young (or just like to pretend to be — we won't tell!), you'll love this space with local shops, great food, art galleries, bars and socializing. Plus, you can take advantage of the Omaha Farmers' Market held every Saturday, May through October. Who doesn't love farm-fresh eggs and grass-fed beef? (Did we mention Nebraskans love their beef? It's kind of a thing.)
While you can find some deals or smaller condos in the low $200,000 range, hang on to your hat because the median listing price in the Old Market is around $525,000, which is pretty expensive for the area (but not that unrealistic nationwide). Trust us, you'll love it here.
Walkability tops the charts at a score of 87 out of 100 and you'll be in the middle of it all. Plus, home values in this area are on the rise, so your investment may pay off in the long run.
Dundee
Oh, Dundee. We love you so! It's just about as good as it gets in terms of a charming neighborhood with a strong sense of community and a commitment from residents to keep the area beautiful. Plus, this part of Omaha is one of the safest.
Ask anyone in Omaha and you'd find that Dundee is the golden child of the city. So golden that Warren Buffett (yes, THAT Warren Buffett) has called it home for more than 60 years. If that doesn't convince you, how about the fact that it was named one of the nation's 10 best neighborhoods (in the entire country!) by the American Planning Association because of its beautiful architecture and gorgeous natural outdoor areas.
Dundee runs from 51st Street to Saddle Creek Road and Charles Street to Underwood Avenue. Homes here are a steal at a median listing price of just $192,500. Walkability comes in at a score of 78. Please excuse us while we move here, too.
---
Looking to buy your dream home? Finding the right realtor makes all the difference!
The first step in your home buying journey is to find a top local realtor who's an expert negotiator and has proven experience in your area. The right agent can help you find the best house for your budget and priorities — and craft a winning offer so you don't miss out on your dream home.
The easiest way to find a great local realtor is to use a free service like Clever Real Estate. Clever matches home buyers like you with top agents in your area so you can compare your options and choose a realtor who's the right fit for you.
You can interview multiple agents until you find the perfect fit, or walk away at any time - Clever's service is 100% free with no obligation. Fill out the form below to instantly request hand-picked agent matches now!
💰 Buy with a top agent, earn cash back!
Buy your dream home with a top local realtor from a trusted brand like Keller Williams or RE/MAX. Keep more money in your pocket by earning cash back on eligible purchases.
Enter your zip code to request hand-picked agent matches in minutes. Compare your options until you find the perfect fit, or walk away with no obligation. Try Clever's free service today!
Leavenworth
Located from Turner Avenue to Interstate 480, and Harney to Mason streets, the Leavenworth neighborhood has one of the highest walkability scores in Omaha at 82. The area is full of moderately-priced homes, lovely parks, great schools, and exciting nightlife. Plenty of shops at Midtown Crossing are nearby as well.
Most homes were built in the 1900s and price points are in the $200,000 range. More expensive homes can be found on historic Turner Boulevard if you're looking for a bit more character. By settling into the Leavenworth neighborhood, you'll be nearby several great schools and churches.
Aksarben-Elmwood Park
The Aksarben-Elmwood Park neighborhood is just south of Dundee and spans from 72nd Street to Saddlecreek Road and Mercy Road to Leavenworth Street. The area was originally known for its popular horse-racing track in the early 20th century, and is now home to upscale apartments and condos, as well as retail spaces, parks, and offices. Aksarben Village is the hub of community activity, as is the nearby Baxter Arena, a venue for the University of Nebraska at Omaha sports teams.
Home prices in this area are in the $200,000 range and the two elementary schools, two middle schools, high school, and private school in the area all get high marks. Plus, the area is incredibly safe and walkability gets a score of 55. And wait for it…the name Aksarben comes from Nebraska spelled backwards!
If you're looking to buy a home in the Omaha area, work with a local, experienced buyer's agent who can help support you throughout the home buying process. They'll have a good pulse on local neighborhoods and can steer you in the right direction for your preferred vibe (and away from those few undesirable neighborhoods!).
Clever Partner Agents are also able to offer on-demand showings — sometimes in less than an hour — so you know you won't miss out on a good property. Plus, you're eligible for a $1,000 buyer's rebate on any home you purchase for more than $150,000 in Omaha.
Related Articles