Learn about five neighborhoods in Naples, Florida to discover why droves of people are moving to this area of the state. Then find a buyer's agent to help you with your home search, whether you are purchasing a home in the millions or a more modest family home.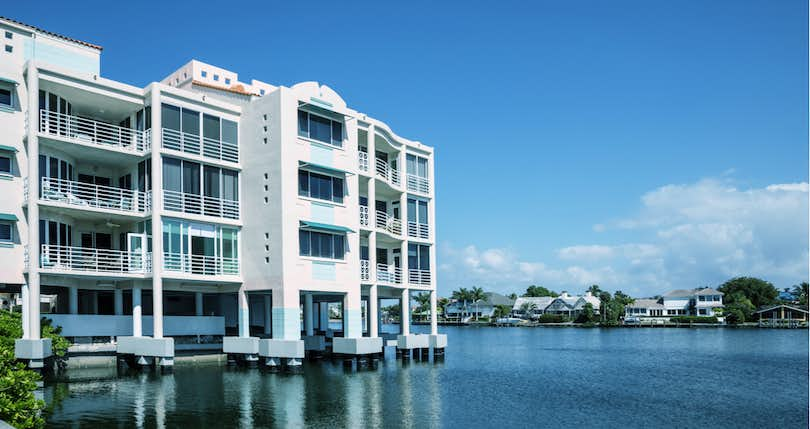 One only has to look at photos of Naples, Florida to figure out why so many people move to the community. In fact, according to the U.S. Census, the Southwest Florida region is one of the fastest growing areas in the nation.
Obviously, people move to Florida to enjoy the weather. The average temperature in Naples is 75 degrees, and there are 264 days of sunshine per year.
People are also drawn to the area for the pristine beaches. Enjoy collecting seashells and bird watching as you walk along the beautiful white-sand beaches that border the Gulf of Mexico.
What you may not realize is that Naples has a strong sense of community. Only 20,980 people are living in ten neighborhoods. The homes are well maintained, and there is a sense of pride that permeates the town. Many inhabitants enjoy the wide range of golf courses that are available in some of the Naples' neighborhoods.
What are the best neighborhoods in Naples, Florida? That depends on a variety of factors, including your lifestyle, age, and income. Here are five different areas that may appeal to you as you look for a new home.
Thinking about moving to Naples, FL?
Connect with a Clever Partner Agent who knows the best areas to buy in.
Moorings
Located in the middle of Naples, this beautiful area offers homes with private waterfront access. Moorings has 4,000 homes and condominiums on 1,300 acres. If you enjoy water sports, this is your ideal location. You'll have easy access to the Gulf from Moorings, which will allow you to boat, kayak, and paddle board to your heart's content.
According to data from Zillow, the median home value in Moorings is $761,000, and the value is holding steady. However, most houses are listed closer to $980,000, which is why it's important to work with a local real estate agent who understands the market and the proper way to determine home value.
Coquina Sands
Coquina Sands is a friendly community full of tree-lined, winding streets. The white sand beaches on the Gulf of Mexico border the neighborhood to the west.
There are many high-end amenities in Coquina Sands, including the Naples Beach Hotel and Golf Course. Coquina Sands residents also can walk to several excellent shopping destinations and coffee shops.
However, you'll have to pay to play in this neighborhood. The average price of homes in Coquina Sands is over $900,000.
---
Looking to buy your dream home? Finding the right realtor makes all the difference!
The first step in your home buying journey is to find a top local realtor who's an expert negotiator and has proven experience in your area. The right agent can help you find the best house for your budget and priorities — and craft a winning offer so you don't miss out on your dream home.
The easiest way to find a great local realtor is to use a free service like Clever Real Estate. Clever matches home buyers like you with top agents in your area so you can compare your options and choose a realtor who's the right fit for you.
You can interview multiple agents until you find the perfect fit, or walk away at any time - Clever's service is 100% free with no obligation. Fill out the form below to instantly request hand-picked agent matches now!
💰 Buy with a top agent, earn cash back!
Buy your dream home with a top local realtor from a trusted brand like Keller Williams or RE/MAX. Keep more money in your pocket by earning cash back on eligible purchases.
Enter your zip code to request hand-picked agent matches in minutes. Compare your options until you find the perfect fit, or walk away with no obligation. Try Clever's free service today!
Old Naples
Stately mansions line the coconut-palm streets in the historic Old Naples neighborhood. No matter where you live in Old Naples, a fabulous sunset over the water is just a walk or short bike ride away.
Choose to live near the Naples Dock and boat launch or near the Old Naples beaches that are less crowded than other beaches in the area. You may also want to live near Tin City, a popular tourist hotspot.
The average house for sale in Old Naples right now is almost $1.5 million. The market is not strong, and housing prices may dip down in the area in 2019.
Park Shore
Homes start in the millions in the exclusive Park Shore neighborhood. It is no wonder as the neighborhood is full of luxurious waterfront properties with boat access.
Fine dining is the norm for the area. Park Shore also offers world-class boutiques, and fun hot spots featuring live music.
You will be paying for these amenities if you live in Park Shore. House values average around $1.2 million. Luckily, sale prices tend to closer to $900,000.
Indigo Lakes and Indigo Preserve
Since we all can't afford homes costing millions, you might want to check out the Indigo Lakes and Preserve communities. This gated community is in North Naples and has a community center featuring tennis, basketball, and a pool. Your kids will have convenient access to quality schools.
Typically, houses range from $300,000-$600,000 in this area.
Spend some time driving through the Naples neighborhoods. Visit parks. Talk with locals. Look at the ratings of the schools. Walk along the beaches. This will give you a chance to get a feel for every area.
One of the best ways to become familiar with different neighborhoods is to talk with a top-notch buyer's agent. An excellent real estate agent will be able to ask you about your lifestyle, habits, and income and suggest an area that you will feel comfortable calling "home."
Your agent will also tell you the best time to buy a house in Florida.
Connect with a Clever Partner Agent working in the Naples area and see if you qualify for cash back.
You May Also Like