Finding the best neighborhoods in Eugene, Oregon is hard whether you're new to town or not. If you want to ensure you get a good deal, check out our guide before finding an agent.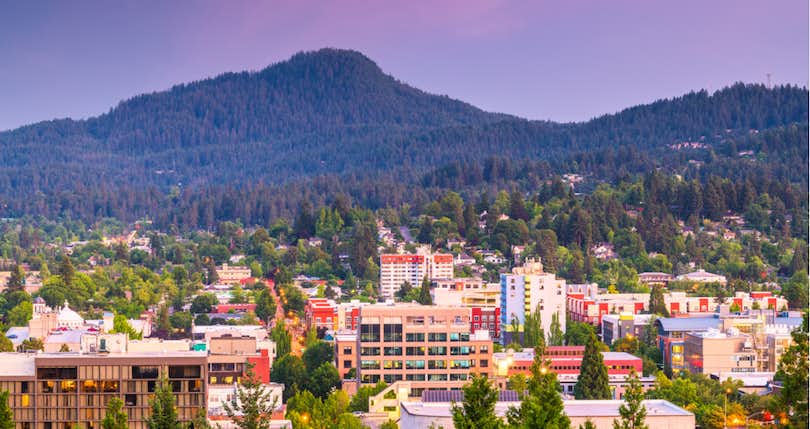 If you're looking for the best neighborhoods in Eugene, Oregon, you're looking at one of the hottest markets in the Pacific Northwest. According to Zillow data, the median home value is $313,000 and annual new job growth was over 100,000. The region is growing at an incredible pace.
With the help of an experienced local agent, you'll be able to get a good deal in one of the best neighborhoods in Eugene even as prices are climbing further upward.
Looking to buy a home in Eugene, Oregon?
Get the help of a Clever Partner Agent to find the best home for you.
1. Amazon
Amazon is a region with a median income that's not far off the national average, making it great for graduate students and university employees. The neighborhood is close to the University of Oregon and is full of quiet paths.
Amazon Park is the highlight of the neighborhood. It has bike paths, running trails, and plenty of open space for adults, kids, and dogs. The population of the neighborhood is small, at just over 1,500 people, and is home to some of the city's nicest houses. Still, property is affordable with a median home value of $335,000.
The area is known for its walkability given there's such great access to shopping, leisure, and schools. There's a variety of upper-middle-class homes and single-story ranch homes with great yards.
For families with kids, the South Eugene High School is consistently rated as one of the top public high schools around. This is a great environment to give your kids a leg up on their future.
2. Crest Drive
With a higher median income than Amazon and a lower median home value, this neighborhood is arguably one of the best places to raise your family in Eugene, Oregon. Home values are around $305,000 and the median income is more than $80,000 a year.
The area also has a reputation as the heart of Oregon wine country. Instead of driving all the way down to Sonoma, you could get some of the best American wine right here.
One of the best parts of this neighborhood is how much recreation there is to enjoy here. The area is lined with trees and winding streets that give it a suburban feel. You might even see deer and turkey that have wandered in from the woods.
Most of the homes are from the 1970s and have a distinctive character uncommon near cities.
3. Friendly
The aptly named Friendly is a great neighborhood sure to see some growth in the coming years. With investors and young professionals moving in, the region's growth shows no signs of stopping.
There are eco-friendly townhouses near the center of the neighborhood which are sure to attract buyers with an interest in lowering their carbon footprint. Foot traffic has increased greatly in the area. With that have come food carts and food trucks that you might expect to find in bigger cities like Brooklyn or Austin.
While the median income is a bit lower than other neighborhoods, the home prices in the neighborhood are also lower. Friendly has largely been regarded as a working-class neighborhood for several decades but its mid-century homes are being remodeled.
You'll find lots of parks and lots of shopping nearby, which means you'll have a lot to enjoy during your downtime on the weekends.
Head over to the abutting College Hill for older homes that start in the high-end range. Home prices are trending up in general but expect a close-knit community whatever your income bracket is.
---
Looking to buy your dream home? Finding the right realtor makes all the difference!
The first step in your home buying journey is to find a top local realtor who's an expert negotiator and has proven experience in your area. The right agent can help you find the best house for your budget and priorities — and craft a winning offer so you don't miss out on your dream home.
The easiest way to find a great local realtor is to use a free service like Clever Real Estate. Clever matches home buyers like you with top agents in your area so you can compare your options and choose a realtor who's the right fit for you.
You can interview multiple agents until you find the perfect fit, or walk away at any time - Clever's service is 100% free with no obligation. Fill out the form below to instantly request hand-picked agent matches now!
👋 Find your perfect agent now!
Finding a great local realtor is the first step in making your home buying dreams a reality. Our free service matches you with top agents from trusted brands like Keller Williams and RE/MAX.
Enter your zip code to request hand-picked agent matches in minutes. Compare your options until you find the perfect fit, or walk away with no obligation. Try Clever's free service today!
4. Whiteaker
The members of Eugene's creative class. This area is great for seeking creative inspiration or new ways of thinking. This is the area where Ken Kesey assembled his network of cohorts known as the Merry Pranksters.
This area's median income is very low compared to other parts of the city, around $24,000. This is because more students and artists live here than anywhere else in the city. However, this low median income means that median home values are under $200,000, which makes it a great place to invest.
As investment in cannabis-based businesses is increasing, this is becoming a more expensive neighborhood. The region has long been at the heart of the legalization battle, going back more than 30 years.
5. Fairmount
With nearly 25,000 graduate and undergraduate students at the University of Oregon, it's one of the main reasons that people come to Eugene in the first place. After spending time there, they learn just how great the city is.
With homes directly adjacent to the university, Amazon and Fairmount are two of the best places to move when seeking a place close to the school. Median home values are nearing $400,000 and this neighborhood has some beautiful homes with access to everything. The median income here is higher than the national average, making it a great place to invest if you're looking for your forever home.
Hendrick's Park is another reason to move to the area. There are 80 acres of woods that offer plenty of seclusion and time to reflect on your busy city life. There's also a rhododendron garden in the park that's world-renowned, attracting visitors from all around the world.
Sorting Through the Best Neighborhoods in Eugene Can Be Hard
Whether you're new to Eugene or a long time resident, knowing what's going on in the local real estate market isn't easy. You need to have someone in your corner with their ear to the ground. A local realtor can negotiate the best deal for you in any neighborhood.
Contact us today to be paired with a Clever Partner Agent from right in Eugene who knows how to find your new home.
Related links