If you're thinking of moving to Ann Arbor, MI due to its great schools and good jobs, where should you think about living? Which neighborhoods are best for families or those who want to walk everywhere? Our top five neighborhoods list gives you a good starting point.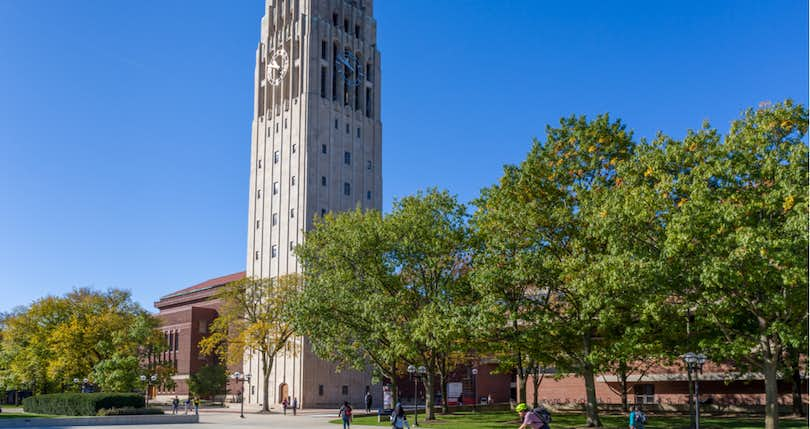 Ann Arbor, Michigan is a great city known for excellent schools, strong job growth, and plenty of outdoor space. The population has been growing in the past ten years, which has driven up housing prices.
The median home value in Ann Arbor is just under $400,000. The city has a low crime rate, making it safe for its college students and families. If you're thinking about relocating to Ann Arbor, or moving within the city, here are the top five neighborhoods that you should put on your list.
Based upon what you're looking for in a house and neighborhood, one of these will be the best place for you. Work with an experienced, local realtor to help pick your perfect spot.
Want to move to Ann Arbor?
Find the perfect neighborhood with a Clever Partner Agent.
Old West Side
Also called Allmendinger Heights, this historic district overlaps with downtown Ann Arbor. You can walk down tree-lined streets, past many local businesses to Allmendinger Park.
Homes have an average listing price of $527,000, even though many are smaller Cape Cod-style home. Homes are situated on wide lots with mature trees and date from the 1920s to 1950s.
The neighborhood is served by Eberwhite Elementary School, which rates 8/10, Slauson Middle School, also an 8/10, and Pioneer High School, which rates 9/10.
Burns Park
Burns Park features tree-lined streets and old homes around historic Burns Park. The park has year-round activities for the whole family including softball, tennis, basketball, playground, and a sledding hill. The eastern part of the neighborhood overlaps some of the Huron Hills Golf Course.
Home prices in this area range from $500,000 to over $1 million, and they sell quickly. They average just a month on the market.
Burns Park Elementary rates 8/10. Students from this area attend Tappan Middle School, which also ranks 8/10, and then feed into Pioneer High School or Huron High School.
Lowertown
North of the Huron River, Northside has some of the oldest homes in the city. You can visit the Cedar Bend Nature Area, play in Northside Park, and golf at Leslie Park. This is a lively area, with many college students who attend the nearby North Campus of the University of Michigan.
The area has seen rapid development in recent years, with a new $146 million condo development which began building in 2018 and other mixed-use developments planned. The neighborhood went through a rough patch, and this is part of its comeback. Because parts of the area are still up-and-coming you'll want to work with a local real estate agent who really knows the neighborhood to help select a home.
---
Looking to buy your dream home? Finding the right realtor makes all the difference!
The first step in your home buying journey is to find a top local realtor who's an expert negotiator and has proven experience in your area. The right agent can help you find the best house for your budget and priorities — and craft a winning offer so you don't miss out on your dream home.
The easiest way to find a great local realtor is to use a free service like Clever Real Estate. Clever matches home buyers like you with top agents in your area so you can compare your options and choose a realtor who's the right fit for you.
You can interview multiple agents until you find the perfect fit, or walk away at any time - Clever's service is 100% free with no obligation. Fill out the form below to instantly request hand-picked agent matches now!
💰 Buy with a top agent, earn cash back!
Buy your dream home with a top local realtor from a trusted brand like Keller Williams or RE/MAX. Keep more money in your pocket by earning cash back on eligible purchases.
Enter your zip code to request hand-picked agent matches in minutes. Compare your options until you find the perfect fit, or walk away with no obligation. Try Clever's free service today!
Allen
If you live in the Allen neighborhood, which is on the southeast side of Ann Arbor, your children will have access to several top-rated schools, from Burns Park Elementary to Huron High School. Residents in this area have access to the Buhr Park outdoor pool and the large Mary Beth Doyle's Park for outdoor activities.
Median listing prices for homes in this area are $225,000.
South Main
This is an extremely walkable part of the city where you'll find Michigan Stadium, the University of Michigan golf course, and Yost ice arena. The area is sandwiched between Allmendinger Heights and Burns Park.
Home prices are similar to those of its neighboring areas, and it will be difficult to find a property for less than $500,000.
When you're ready to buy a home in Ann Arbor, get in touch with Clever to be connected with a top-rated Partner Agent in that city/region for guidance and support throughout the home buying process.
Related links