Knoxville, Tennessee is a city full of wonderful architecture, historic buildings, and vibrant city life. With a mix of old time Southern charm and metropolitan sophistication, Knoxville is a great place to live. In this article, we'll take a look at five of Knoxville's best neighborhoods.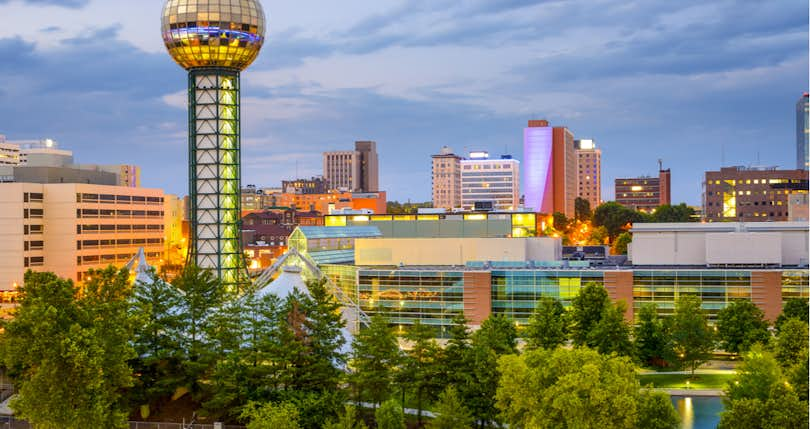 Knoxville is a city of great diversity. As Tennessee's third largest metropolitan area, it serves as a major economic hub in the state and appeals to people from all walks of life: whether you're a white collar worker, blue collar worker, artist, single, or married with kids, Knoxville has something for you.
Like any city, Knoxville's diversity is segmented into different neighborhoods, each with their own unique style and flair. Families will greatly enjoy the beautiful architecture and quality schools of Oakwood, while young singles may prefer the nightlife opportunities available in Downtown Knoxville .
No matter what your tastes are, you're bound to find something that suits your lifestyle. So, let's dive right in and take a look at the five best neighborhoods in Knoxville.
Oakwood
Oakwood is located in North Knoxville and is a great place for singles, families with kids, and retirees. Most of the homes in this area were built between the 1920s to 1950s and give the area a very traditional front-porch feel. There's a great deal of cultural and ethnic diversity in the neighborhood, making it a welcoming place for all.
The area is known for its schools and many of the local schools provide a top-notch education. Whittle Springs Middle schools is one of the best in Tennessee, Fulton High School is excellent, and Beaumont Elementary Magnet Arts & Honors Academy is a great school for gifted students.
The median home value in the neighborhood is $107,000 and the median income is $35,110. The neighborhood's population is 2,907 and is very safe with only 2,411 crimes per 100,000 residents.
Belle Morris
Belle Morris is an up and coming neighborhood located in the northern part of Knoxville that makes for a perfect place for young singles and couples to buy their first home. While Belle Morris hasn't reached its full potential yet, many young couples (especially artistic ones) are moving into the area and truly revitalizing it through home renovations.
The school system leaves something to be desired, but the influx of new residents and ongoing renovations have become a catalyst for change in the education system as well. Although families may want to look elsewhere due to the low performance of the local schools, the friendly neighborhood vibe makes up for it in part.
In Belle Morris, the median home value is $74,550 and the median income is $21,542. Unfortunately, safety in the area isn't fantastic, with a rate of 7,904 crimes per 100,000 residents.
Fourth and Grill
This area, located in the downtown part of Knoxville, is home to wonderful architecture and quaint gardens. The neighborhood is pedestrian friendly, and it's chock-full of fascinating historic houses.
Professionals, artists, students, and families will all find themselves at home in this invigorating area of the city, but those who are in love with architecture will benefit the most from living here. The majority of the houses here are Queen-Anne or Craftsman style, although there are examples of Gothic Revival, American Foursquare, and Colonial Revival homes as well.
The population of the area is quite low, housing only 648 residents. The median home value is $170,250. Crime is relatively low, with 5,649 crimes per 100,000 residents, but the unemployment rate is rather high, currently sitting at 9.1%.
---
Looking to buy your dream home? Finding the right realtor makes all the difference!
The first step in your home buying journey is to find a top local realtor who's an expert negotiator and has proven experience in your area. The right agent can help you find the best house for your budget and priorities — and craft a winning offer so you don't miss out on your dream home.
The easiest way to find a great local realtor is to use a free service like Clever Real Estate. Clever matches home buyers like you with top agents in your area so you can compare your options and choose a realtor who's the right fit for you.
You can interview multiple agents until you find the perfect fit, or walk away at any time - Clever's service is 100% free with no obligation. Fill out the form below to instantly request hand-picked agent matches now!
💰 Buy with a top agent, earn cash back!
Buy your dream home with a top local realtor from a trusted brand like Keller Williams or RE/MAX. Keep more money in your pocket by earning cash back on eligible purchases.
Enter your zip code to request hand-picked agent matches in minutes. Compare your options until you find the perfect fit, or walk away with no obligation. Try Clever's free service today!
Downtown Knoxville
If you're someone who loves city life, Downtown Knoxville should be on your shortlist. The district is easy to get around on foot and features tons of bars, restaurants, and other entertainment opportunities. Its central location and proximity to major interstate highways makes travelling or commuting to other areas a breeze.
The Market Square is home to many different events, and there's never a shortage of concerts, festivals, and other entertainment in the area. Parks are also aplenty, with Fort Kid, the World's Fair Park, and Sunsphere all located in the neighborhood.
The area is Knoxville's second priciest, with a median home value of $241,833. It's quite a safe neighborhood, with only 3,808 crimes per 100,000 residents.
Park Ridge
Park Ridge is another neighborhood that's an absolute delight for the architecturally inclined. The area features many beautiful Victorian style homes and is conveniently located near Knoxville's Old City, where you can enjoy a multitude of bars and restaurants.
The district is great for parks and greenery and features a pleasant neighborly spirit. Unfortunately, the schools in this area aren't the greatest, so it may not be the best choice for families.
Parkridge is quite affordable, with the median home value clocking in at just $68,500. There are 5,450 crimes per 100,000 residents, so the area is not the safest in Knoxville, but isn't the worst. Overall, it's a good choice for those who want to be near to the Old City.
If you're trying to figure out what Knoxville neighborhood is right for you, working with an experienced real estate agent who knows the ins and outs of the local market is one of the best investments you can make. Clever Partner Agents are all top-rated real estate agents from major brands like Keller Williams, Century 21, and RE/MAX who can help you find a great house for you at the right price point. What's more: our Partner Agents offer on-demand viewings that can help you snag a great deal before it's too late.
To get in touch with an experienced local real estate agent, simply fill out our form and we'll reach out to you shortly.
Related Articles