Moving to Jacksonville, Florida? It certainly has a lot to offer. Jacksonville is a large city, so no matter what you're looking for, the Jacksonville area has something for you. Here are our top five Jacksonville neighborhoods for 2019.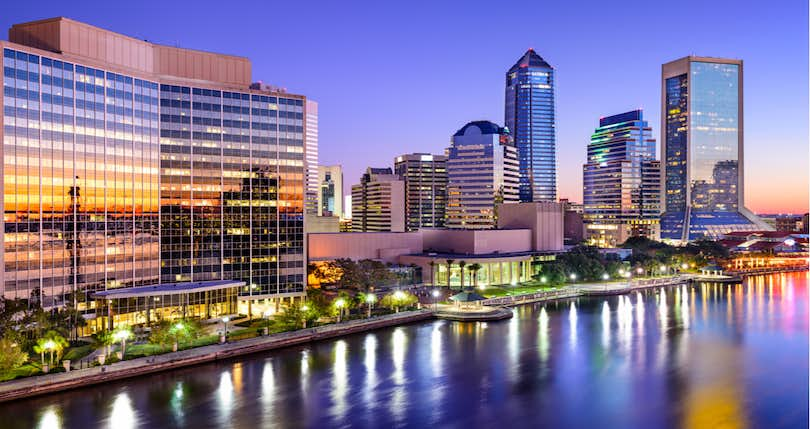 Jacksonville, Florida is a hot real estate market. The median home value in Jacksonville is $177,600, which is 8.8% higher than last year. Prices are expected to rise another 7.1% in the coming year.
Jacksonville takes up 840 square miles and is the largest city by area in the lower 48 states, so there are a lot of different places to choose from. From condos in downtown to beach houses on Jax beach, Jacksonville has a lot to offer. Whatever you're looking for, there's a neighborhood for you.
San Marco
San Marco Square is a distinctive, historic neighborhood built in the 1920s and modeled after the Piazza San Marco in Venice, Italy. It's located just a few minutes from downtown and has a young and artsy vibe. The LGBTQ-friendly neighborhood is known for its craft breweries, consignment shops, trendy boutiques, and independent bookstores.
Whether you're looking for a new condo or a historic home there's likely a property in San Marco in your price range.
Ortega Forest
If you can afford it, Ortega Forest is incredibly beautiful. Full of riverfront mansions and huge oak trees, the neighborhood is on a peninsula where the Ortega River meets the St. John's.
Ortega Forest is home to a number of small parks on the river. There are some great restaurants and it's a short 15-minute drive to downtown.
Unfortunately, Ortega Forest is also pricey. This small part of the larger Ortega neighborhood has a median home value of $401,800, 2.26 times higher than the overall Jacksonville median.
Northside
If you're looking for a nice house with a big yard, Northside is for you. Located right along the St. Johns River, Northside is appeals to families with children, first-time home buyers, and retirees. Northside combines rural charm with convenience. It's an easy drive to downtown and is close to the airport, train station, and cruise terminal.
The lot size in Northside is generally over an acre, giving you a lot of space. And you'll have your choice of home styles, with everything available from townhouses to ranch-style homes to Mediterranean villas.
---
Looking to buy your dream home? Finding the right realtor makes all the difference!
The first step in your home buying journey is to find a top local realtor who's an expert negotiator and has proven experience in your area. The right agent can help you find the best house for your budget and priorities — and craft a winning offer so you don't miss out on your dream home.
The easiest way to find a great local realtor is to use a free service like Clever Real Estate. Clever matches home buyers like you with top agents in your area so you can compare your options and choose a realtor who's the right fit for you.
You can interview multiple agents until you find the perfect fit, or walk away at any time - Clever's service is 100% free with no obligation. Fill out the form below to instantly request hand-picked agent matches now!
💰 Buy with a top agent, earn cash back!
Buy your dream home with a top local realtor from a trusted brand like Keller Williams or RE/MAX. Keep more money in your pocket by earning cash back on eligible purchases.
Enter your zip code to request hand-picked agent matches in minutes. Compare your options until you find the perfect fit, or walk away with no obligation. Try Clever's free service today!
Downtown
Downtown offers great nightlife, including over 120 bars and restaurants, so it doesn't shut down at 5 pm like other city downtown areas. Downtown is overall a very convenient place to live, especially if you also work nearby.
There is also a lot to explore Downtown, with places like the Museum of Science and History, the Ritz Theater and Museum, and a seemingly endless variety of dining and shopping options.
From historic homes to modern condos, you can find all types of houses in downtown Jax.
The Beaches
Just east of Jacksonville proper lies an area referred to by locals as "The Beaches" — Jacksonville Beach, Atlantic Beach, and Neptune Beach. These oceanside towns are charming, eclectic, and a wonderful option for anyone who's interested in beach living.
The Beaches offer a laid back feel and are just a short drive from historic St. Augustine. There are also great restaurant options, fun nightlife, and, of course, beaches.
Homes cost a little more on the beach, with median home values of $368,600 in Jax Beach, $391,000 in Atlantic Beach, and $436,200 in Neptune Beach. However, for houses as close to the ocean as you'll find here, it's hard to find a better deal.
Next Steps
The Jacksonville area is a great place to live. Residents benefit from Florida sunshine but get more varied seasons than other parts of the state. In each neighborhood, there are great restaurants, entertainment, nightlife, and more.
For help finding your dream home and a great deal, work with an experienced buyer's agent. Clever Partner Agents are all top-rated in their areas and can support you through every step of the home buying process.
Partner Agents can tell you all about different Jacksonville neighborhoods and what you can expect to find in each neighborhood in your price range.
If you're not sure which neighborhood is right for you and your family, talk to your real estate agent about what you're looking for. Real estate agents are experts in knowing their local areas and all they have to offer.
Related Articles