Looking to buy in Boulder? You're not alone. Boulder is one of Colorado's best-loved communities, offering residents close access to the mountains and Denver, while also offering peace and quiet in its charming, historic neighborhoods.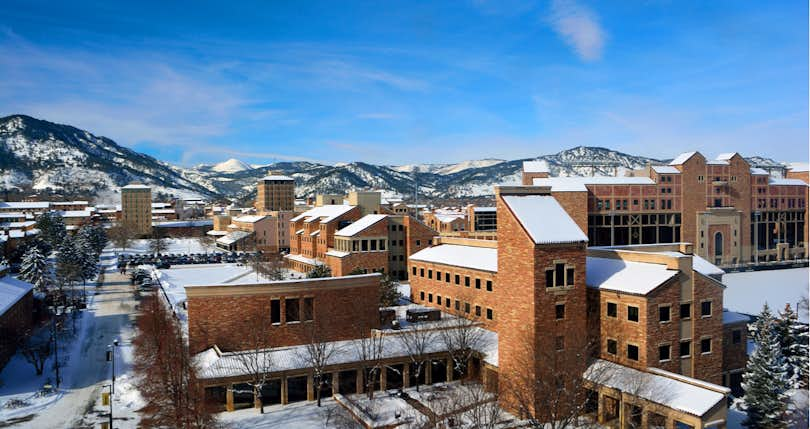 Boulder, Colorado is a city that consistently makes "best of" lists and for good reason. Situated at the foothills of the Rockies, this active community is full of talented, driven, and open-minded folks from around the globe. Many even refer to Boulder as the next Silicon Valley. Take that for what it's worth. If you're looking for a hot housing market, mountain access, and progressive culture, look no further.
Boulder is comprised of a variety of people, and its neighborhoods are no different. College students, non-profits, technology empires, and sports industry types all call Boulder home. This neighborhoods are no different and are reflective of Boulder's variations of culture and community. Read on to find out our favorite Boulder neighborhoods!
Mapleton Hill Historic District
This is one of the most coveted spots in all of Boulder. This dreamy, shaded neighborhood is lined with 100-year-old trees. Homeowners enjoy turn of the century architecture, complete with craftsmanship, natural elements, sprawling lawns, and expansive front porches.
Mapleton Hill is not only aesthetically pleasing, its central location to Boulder's bustling downtown puts residents right in the heart of the action. Boulder's Pearl Street is lined with award-winning restaurants, luxury shopping, and year-round events.
Not far from the Flatirons, Mapleton Hill also gives its residents quick access to Chautauqua Park, Gold Hill, and Nederland. Instead of planning a weekend mountain getaway, Mapleton Hill residents can escape to nature everyday after work, if they so choose.
This neighborhood is the perfect haven for new families looking to raise their kids in the quiet, safe environment of the suburbs without actually having to live in the suburbs. Mapleton Hill puts families in the heart of a great school district, allowing children to attend Whittier International Elementary, Casey Middle, and Boulder High — fantastic public schools
North Boulder
Commonly referred to as NoBo, this bustling district is on Boulder's up-and-coming list, even though it has been a residential area since the years following WWII. North Boulder is the perfect place for those craving quick mountain access and a little bit of peace away from Boulder's downtown.
This neighborhood has its own local grocer — Lucky's Market. Coffee shops, bars, bike shops, and a park complete this mini-metropolis. Going for dinner or drinks in NoBo means plenty of parking and minimal, if any wait times.
North Boulder is expanding though, and in doing so, attracting an artistic community. Its First Friday Artwalk is a huge hit, drawing crowds from far and wide. The event is perfect for all ages and fosters a sense of community in this growing neighborhood. Street art, murals, and galleries make NoBo a unique place to call home.
Table Mesa
Also referred to as South Boulder but more specifically the residential area of Table Mesa. This neighborhood is truly a locals' hideout — sorry to blow up your spot. The streets winding through Table Mesa are home to some of Boulder's longest tenured, classic residents and residences.
Views of the Flatirons make this hood feel authentically Boulder but also give residents quick access to the main highway into Denver, should commuting be necessary. Table Mesa is a mix of old and new, families and bachelors, retirees and young urban professionals. All walks of life call this beautiful, quiet area home.
South of Table Mesa Drive and west of US 36, this hideout grants residents access to plenty of amenities and to some of the best chicken wings in town. Lucky's, Neptune, and Sweet Cow — and many more retail shops and restaurants — are within spitting distance. You could chow down on some wings, pick up a pair of climbing shoes, and finish off with a delicious ice cream all while supporting local businesses.
---
Looking to buy your dream home? Finding the right realtor makes all the difference!
The first step in your home buying journey is to find a top local realtor who's an expert negotiator and has proven experience in your area. The right agent can help you find the best house for your budget and priorities — and craft a winning offer so you don't miss out on your dream home.
The easiest way to find a great local realtor is to use a free service like Clever Real Estate. Clever matches home buyers like you with top agents in your area so you can compare your options and choose a realtor who's the right fit for you.
You can interview multiple agents until you find the perfect fit, or walk away at any time - Clever's service is 100% free with no obligation. Fill out the form below to instantly request hand-picked agent matches now!
💰 Buy with a top agent, earn cash back!
Buy your dream home with a top local realtor from a trusted brand like Keller Williams or RE/MAX. Keep more money in your pocket by earning cash back on eligible purchases.
Enter your zip code to request hand-picked agent matches in minutes. Compare your options until you find the perfect fit, or walk away with no obligation. Try Clever's free service today!
Wonderland Hills
Just west of North Boulder, Wonderland Hills might just be the best kept secret of Boulder. Residents enjoy easy access to Wonderland Lake and the myriad trails surrounding it. Just a short jaunt up the road and you're in the quaint, charming town of Lyons, and just a quick drive the other way, and you can be in Longmont.
Wonderland Hills properties will cost the buyer, though. Large lots, modern homes, and unobstructed views make this neighborhood one of the nicest in Boulder. Single-family homes and condos fleck the rolling hills of this peaceful Boulder outlier.
Residents live close enough to Pearl Street and University of Colorado Boulder that they don't have to worry about missing key events around the city. However, they can rest easy that their peace and solitude won't be disturbed by tourist crowds.
Chautauqua & East Chautauqua
Nestled up against Boulder's famous Flatirons, both of these adjacent neighborhoods are known for their natural beauty. Small and charming, these locales don't take up much space in the entire urban landscape of Boulder but they certainly pack a punch.
Winding roads to nowhere flanked by gorgeous Victorian homes mark the beginning of Chautauqua and East Chautauqua. Trail-heads begin right from many backyards, quickly ushering residents away from the city-scape. But be warned — you will definitely pay to have this slice of Heaven in your backyard.
Thru-traffic, tourists, and packed street parking are a big drawback to these neighborhoods. The Colorado Chautauqua Associations hosts a variety of events that are a huge draw for locals and visitors. Chautauqua Park is one of the most visited tourists' destinations in Colorado so while you'll have quick access to Boulder's famed landmarks, you'll be sharing them.
There's a reason that Boulder housing prices continue to climb skyward. This foothills community offers residents quick, easy mountain access, open-space parks, progressive culture, and an eclectic community that is equal parts relaxed and salty. If you're interested in joining this Colorado community, connect with Clever to speak with a Boulder realtor.
Related Articles