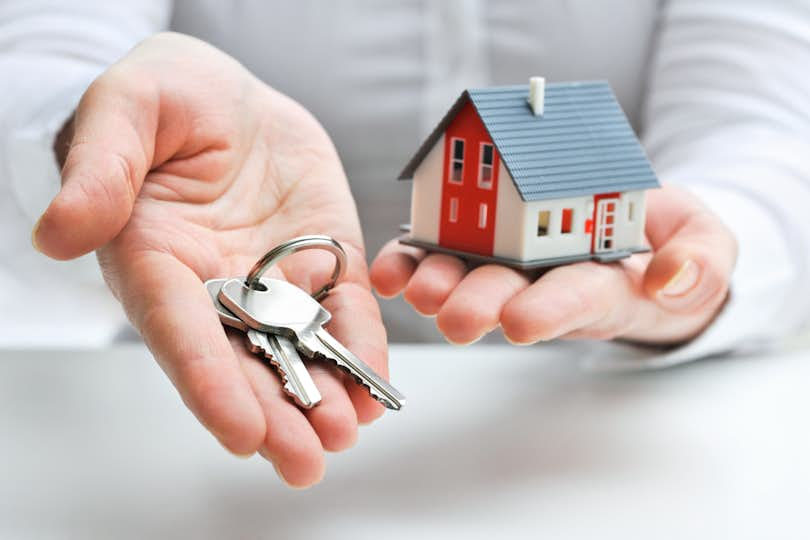 Despite a stressful economy, rising real estate prices, and stagnant wages in many industries, 65% of the adult population in the U.S. are homeowners. Some have been paying a mortgage for a while, but a surprising number of first-time homeowners signed on the dotted line in 2021 and 2022. A survey of recent home buyers by Clever Real Estate reveals who's buying houses, how much they're paying, and what the real cost of homeownership is.
Here are 27 surprising findings about recent home buyers.
1. There are record numbers of new homeowners
In 2020, nearly 2.4 million people bought their first homes. This is the largest number of first-time home purchases in history.
2. Good credit scores made this possible
Credit scores were higher in this booming period of purchases. The average score for different loans?
Conventional: 756
FHA: 676
VA: 720
3. Low interest rates also helped
The historically low interest rate of 2.68% in December 2020 opened up the floodgates for mortgages. Interest rates remained low throughout 2021, hovering between 2.7% and 3.1% before jumping dramatically to slow inflation in 2022.
4. Young millennials make up most first-time homeowners
According to Bankrate, the average age of a new homeowner in 2021 is 34. This is the same as the percentage of buyers who were first-time homeowners (34%).
5. Gen Z is buying, too
Gen Z is dipping their toes in as well, with Statista noting that 2% of home sales were completed by this demographic during 2020 and 2021. These numbers will likely increase as Gen Z ages.
6. But Generation X still wields the most power
The largest proportion of home buyers (24%) and home sellers (25%) is still Generation X. They have the most money to spend on homes right now, and recent Gen X buyers are looking to both downsize and upgrade as their Gen Z kids move out.
7. Who runs the world?
In 2020, 19% of first-time home buyers were single women. Fewer than 10% were single men.
8. The gap is real
Disparities between white, Black, and Latino home buyers are real. Here are the differences between the largest demographic groups:
White and Black homeowners: 74.2% vs. 44.6%
White and Latinx homeowners: 74.2% vs. 47.5%
9. Regrets — they have a few
The price of a starter home has gone up 86% since 2012, and first-time homeowners are spreading themselves (and their budgets) thin. This includes buying homes from a video on a real estate site, committing to distressed properties, and buying in a bad location.
10. But they are committed to buying a home
Across generations and demographics, 84% of people in the U.S. say that owning a home is a top priority. And 64% of people who bought a home in 2021 are satisfied with their purchase.
>>OUTSMART THE MARKET. Get Clever Real Estate's free weekly newsletter for homeowners, buyers and sellers.
11. There are many tools to make it happen
While 88% of home buyers used a real estate agent, nearly 100% started their search online. Once a property was located, they contacted a realtor to explain the process and guide them through it.
12. The process is still challenging
With low inventory across the country, over half of home buyers (53%) said that finding the right property is the biggest challenge. This means that 4% of buyers needed to move 50 or more miles away to find a home.
13. This makes remote work…work
A quarter of those who are looking to buy or have already bought said they would consider moving because remote work makes relocation possible.
14. Running away to the woods has its appeal
At 74%, West Virginia has the highest rate of homeownership. But even home buyers who can't get away to a cabin in the woods prioritize outdoor space, with 53% marking it as an important feature.
15. Home purchases in small towns and rural settings saw an increase in 2020 and 2021
Driven by pandemic closures and the need for more outdoor space, many city dwellers pulled up stakes and moved to the country (or the suburbs, at least). 18% of suburban and urban recent home buyers reported moving from the city in 2020 and 2021.
16. …and a fall in 2022
The high cost and scarcity of homes for sale, plus the reopening of urban centers have seen a rejuvenation of urban and city home sales. Still, recent home buyers are reluctant to return to urban centers where prices are at historic highs.
17. First-time buyers leaned heavily on their mortgage
First-time home buyers financed 93% of their new homes. Repeat buyers came in lower at 84%.
18. This stretched the budget
The majority of recent home buyers paid 100% of the asking price, but 29% paid over asking. A lack of inventory with a larger number of buyers caused intense bidding wars in 2020 and 2021, but adjustments to interest rates slowed these down somewhat.
19. Down payment strategies diversified
The average down payment was 7% of the home's price in 2021, and homeowners got creative to find it. Some pulled from savings and others tapped into their family's kindness or their 401k.
20. The true cost of homeownership was a shock
Between closing costs, upkeep, and unexpected expenses (furnishings, lawn care, etc.), new homeowners were not always prepared for the true cost of homeownership. These unexpected costs plague 36% of recent home buyers with regret.
Some recent buyers relied on a home buyer rebate for improvements, while others put off major repairs or dipped into savings.
21. Multi-generational homes were a hot prospect
11% of recent home buyers focused on keeping the family together. They purchased larger homes to accommodate young children, aging parents, and young adults moving back home after college.
This also includes homes that were sold to family members to relieve the burden of a mortgage but keep the home in the family.
22. The home office is important
Open floor plans proved to be problematic with remote work and school at home. Recent home buyers spent more time considering how they would use their home before they made a purchase decision.
23. Homeownership rates are dropping
Rising prices, painful inflation, and concerns about the economy mean that the hopes of first-time buyers are beginning to flag in 2022. The rate of first-time buyers has dropped 8% from 34% in 2021 to 26% in 2022.
24. Mortgage rates are driving the drop
Mortgage rates more than doubled, peaking in November 2022 before starting to stabilize (or slightly decline). Some prospective sellers and buyers are holding off to see what 2023 will bring.
25. Market analysis = better value
Recent home buyers report that their real estate agent's market analysis gave them good information — and the best bang for their buck. This is critical for both pricing a home and making an offer.
26. The process takes time
Despite the lightning-fast speed of home sales in 2020 and 2021, recent buyers looked at an average of 10 houses before making their decision. This process took an average of eight weeks, a rate that was heavily influenced by social distancing measures put in place during the pandemic.
27. Homeownership is still important
Nearly 75% of people in the U.S. believe that home ownership is a better sign of success than college degrees, a successful career, and a family. Here are some of the significant benefits of homeownership:
A net worth that is on average 8x greater than renters'
More stability in terms of moving and monthly expenses
More control over your environment
Even with capital gains tax concerns upon the sale of your home, buying a home remains one of the best investments you can make.