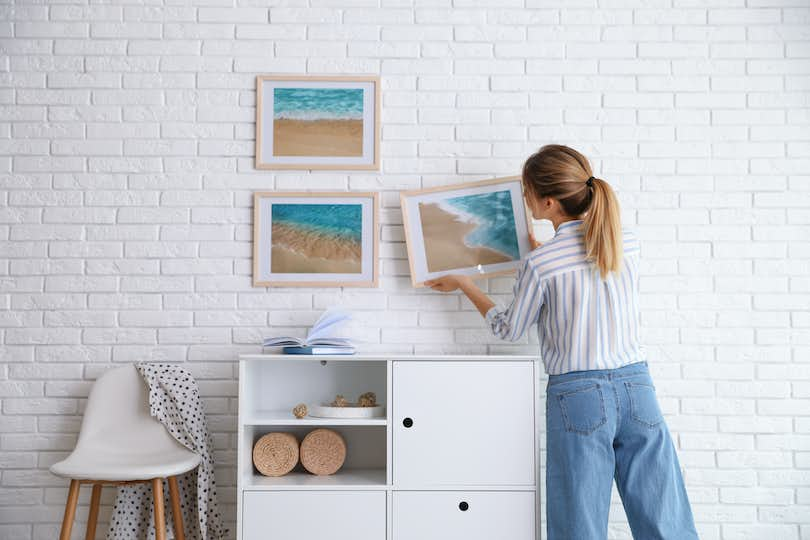 Whether you want to make your investment rental more enticing to tenants, sell your house in a hurry, or simply give your home a new look for the new year, a home makeover can be an effective way to renew enthusiasm about your living space.
But anyone who's ever received an estimate for a remodel or gone shopping for new furniture or decor knows that updating your home can be expensive. With a little creativity and a lot of elbow grease, you can spruce up your home for free.
By rearranging furniture, repurposing items you have around the house, or deep cleaning, you can give your home a total makeover without spending a dollar.
1. Declutter
It's amazing how transformative a little decluttering can be. How you declutter is up to you. One well-known philosophy suggests getting rid of items that don't "spark joy," which could potentially cover a lot of ground.
You could also follow the advice of experienced real estate agents, who tell sellers their homes will feel larger and more open if they purge at least half their furniture. If you have extra chairs or side tables that only exist to hold up lamps you never use, throwing them out or donating them to charity could give your home a huge makeover.
2. Spruce up your landscaping
Another tip that good real estate agents give sellers is to brush up their home's landscaping. Go outside and give your home a long, honest look from the sidewalk. How can you change the landscaping to make your home more appealing — or to use the real estate term — boost its curb appeal.
Pruning unruly or dead branches from your trees, raking leaves, rebordering flowerbeds, cutting the grass, trimming bushes and shrubs, and edging sidewalks are all free ways to revamp your landscaping, and you can tackle them in just one afternoon.
3. Deep Clean
If you're like most people, you probably dust, sweep, vacuum, and mop pretty regularly. But there's a level of cleaning beyond maintenance that can totally transform your home.
Launder items such as curtains, drapes, rugs, and pillows. Starting high, dust your walls and cabinets. Use warm water with a little vinegar to give your windows a shine, and use your vacuum cleaner's crevice attachment to clean in all the cracks and corners of your home. Scrub and polish your floors, as well as appliances, cabinet fronts, and doors.
There's a reason sellers deep clean their home before putting it on the market. By the end, your home should look bright and renewed.
>>TIRED OF COSTLY APPLIANCE REPAIRS?Check out these top home warranty companies today.
4. Rearrange furniture
Changing the layout of your rooms can dramatically transform your home, and it can be pretty easy if you follow a few basic principles. Reconfigure the arrangement of tables and chairs, and experiment with placing lamps and decor in new spots.
Don't forget to play with angles. Placing items, such as a sofa or dining room table, diagonally across a room instead of parallel to walls can make a huge visual difference.
Don't silo furniture to individual rooms, either. Rotate items between different rooms and floors of your home. Putting a familiar item in a new context can make it seem like new.
5. Think in terms of "areas"
While you're rearranging furniture, think about how you're grouping items together. Instead of treating the room like one big space, use your furniture to divide it into individual areas. Think of chairs facing each other, a table and chair next to a window, or a sofa paired with a coffee table.
If you're having trouble deciding where to create these areas, you can use architectural elements, such as windows or fireplaces, as focal points. These setups create spaces that are more intimate and conversational. Counterintuitively, splitting a room into smaller areas can make it feel bigger.
6. Move furniture away from walls
Many interior designers believe you should never push furniture flush against the wall because it makes a space feel smaller and claustrophobic. If you have the space, float your furniture toward the middle of the room to make it seem more intentional. Don't forget to leave traffic paths between items.
7. Rotate wall hangings, lamps, and rugs
Don't forget to rearrange and rotate other items besides furniture. If you have art, photos, or wall hangings, shuffle them to different rooms. Do the same with lamps and other light sources, as well as rugs, mats, accessories, and throw pillows.
8. Maximize natural light
Whether they're working with a flat-fee broker or a full-commission agent, one piece of advice that's universally given to home sellers is to increase the amount of natural light in their homes. That's because a brighter home is a cheerier home that looks larger and feels warmer.
Remove heavy window treatments, such as drapes, blinds, shutters, or thick curtains. Clean both sides of your windows with a glass cleaner or a mixture of water and vinegar to make the glass really shine. At the end of the process, you'll literally see your home in a whole new light.
9. Hide unsightly cords and appliances
Corralling and obscuring your cords can make your home look much cleaner and less cluttered.
For your television and internet wires, run them behind appliances and fasten any excess length to keep them as discreet as possible. Place modems out of sight, too. Hide them behind a curtain, under a piece of furniture, or inside a cabinet.
On the kitchen counter, elevating electrical appliances, such as kettles, slow cookers, or mixers, on small shelves or even boxes makes it easier to keep the cords out of sight.
Remember, you shouldn't hide electrical cords under carpets or rugs because they could overheat and become damaged.
10. Repurpose jars
Large or uniquely shaped jars can be washed and repurposed as flower vases or receptacles for utensils, pens, pencils, and coins. If you struggle to remove those sticky labels, experts recommend briefly soaking them in hot water mixed with dish soap and vinegar.
11. Add flowers
While you're outside refreshing your landscaping, select some nice flowers to use as centerpieces on your dining room or coffee table. Bringing nature indoors is a great, and free, way to enhance your home.
12. Display family photos or mementos
One of the easiest ways to beautify your home is to personalize it with items that have meaning to you. Instead of keeping prized family pictures tucked away in a drawer or photo album, display them in a frame and hang them on the wall. Cluster photos by size, era, or theme to create areas of visual interest.
13. Swap with friends
You almost definitely have friends with living spaces that could also use a refresh. Compile a list of furniture and decorations that don't spark joy for you anymore, and arrange swaps with friends who live nearby.
14. Scour free groups online
In this era of for-sale-by-owner-listings and discount real estate agents, there are countless ways to save money. It's no surprise that there are a number of people online who are simply giving items away that they no longer want or need to get rid of before a move
>>TIRED OF BAD MOVES? Check out the best moving companies in your area and get free quotes.
These items include everything from clothes to furniture, books, and electronics. Look for "buy nothing" groups online, especially on Facebook and Craigslist.
15. Strategic mirrors
A great space hack used by interior designers is using mirrors to create a sense of space or interest. Hanging or leaning mirrors against a wall can create the illusion of a larger space and can make a cramped or limited room suddenly feel much more open.
Placing mirrors strategically in a room can also spread and multiply light, making a dim room feel brighter. Experiment with mirror placement to find the best effects for your space.
16. Turn an unused fireplace into a display case
If you don't regularly build a fire, your fireplace can make a great display case for decorative items. If you can't find a place for framed family photos, flowers, repurposed jars, or mirrors — consider placing them in the fireplace to add a bit of flair to your living room.
17. Revamp bookshelves
It's easy for bookshelves to become cluttered and disorganized, but that shouldn't be its natural state. A neat, organized bookshelf can dramatically improve a room's overall vibe, especially when you consider study results that show visual clutter can trigger anxiety. Consider organizing your books by size or color to make your bookshelves extra charming.
18. Focus your rooms
Creating a focal point can make a room feel more comfortable, coherent, and intentional. As you arrange furniture into areas, think about constructing groupings around architectural features, such as windows or fireplaces, or bold, eye-catching items, such as artwork, mirrors, or large furniture.
19. Elevate your curtains
A little-known design hack to make a room look bigger is to hang curtains at the very top of a wall, rather than at the top of a window. This draws your eye upward and gives the illusion that the room is taller because the ceiling will look higher.
20. Remove cabinet doors
Drab kitchen cabinets can look secretive, flat, and boring. By removing the cabinet doors, you can convert them into quasi-farmhouse cabinets that will open up the space and make it seem more modern and visually interesting.
21. Make a canopy
If you have scarves or blankets you don't use, hang them horizontally with twine or string over beds and sofas to create a charming makeshift canopy.