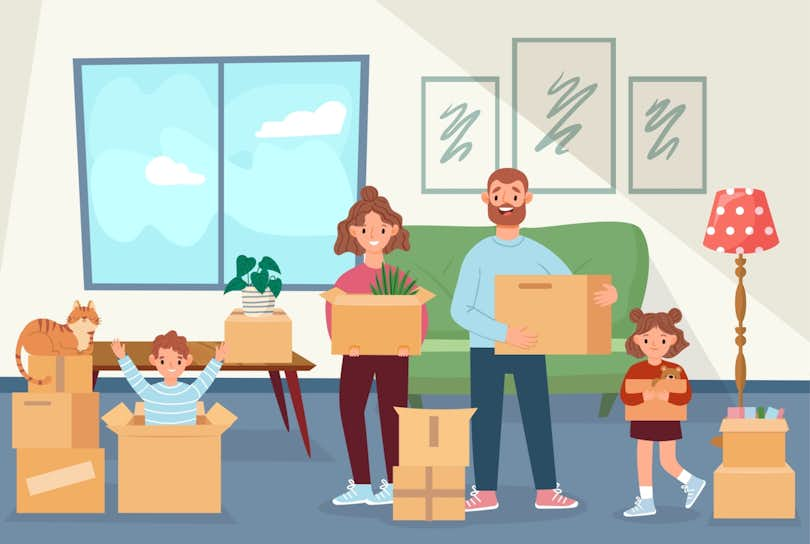 When a family welcomes a new child, that often calls for extra space. More kids usually means more stuff. Some families, however, find that even with a new addition, downsizing to a smaller house with children makes sense. If this sounds like you, here are 20 tips for downsizing to a smaller house with children.
Why downsize with more kids?
Selling your home and downsizing to a smaller house with children can be a daunting task. Moving into a smaller home can feel overwhelming, especially when it means giving up space, memories, and a certain level of comfort. But if you're part of the home-buying generation that's feeling the pressure of a competitive market and limited resources, downsizing also means an opportunity for a fresh start, less stress, and more financial freedom.
Perks of downsizing include:
Less maintenance

More time with family
With a little planning and preparation, downsizing to a smaller house with children can be a positive experience for both you and your family. Here are 20 tips to help make the process easier.
Shopping for a smaller home
Calculate how small is too small
There's no doubt that moving into a smaller space is going to require changes in how you live and how much stuff you can keep. If you are unsure of how you might make that work, take the time to research just how small is too small.
When possible, book a week in a local Airbnb or in medium-term rental properties of different sizes. Take the whole family, and see how it works. Even if you are in vacation mode with a more relaxed attitude, it can give you an idea of the amount of space your family might actually need to live day to day.
Consider a multifamily property
One of the best ways to build generational wealth is to invest in a rental property, but many families struggle to afford even one house, much less two. As you search for a smaller home, consider buying a duplex or triplex and renting out the other units.
Involve your children
Older children may struggle with a move from their first family home to a new space. You can head this off by involving them in any house-hunting trips. This does not mean that children have the final say, but older children will appreciate being included in a search.
Focus on a home's function
When choosing your new home, focus on function rather than size. Even large homes can feel cramped with a bad design. Consider the layout, storage options, and how the space will work for your family.
Use a realtor
With so many options in terms of online listing services — and even less official sites like Facebook marketplace and Craigslist — many home buyers might assume it's best to conduct their home search and purchase on their own.
Although you may save a few dollars, consider this: Real estate agents in your area often have an inside track to homes that are not on the market. They also know where the best schools are and can recommend homes from other realtors in their office.
If you're trying to save some money, a low commission realtor is a good choice. They offer the same great service but with a negotiated fixed rate.
Packing for the move
Take inventory
Downsizing your possessions starts with the adults in the family. Take an inventory of your belongings and decide what is essential, and what can be sold or donated. This is a great time to make a little extra cash to boost your personal finances or pay down debt.
Get the kids involved in this process, too. This avoids the trauma of losing a precious toy and makes sure kids feel support and comfort as they move.
Get digital
If you haven't already moved photo albums to the cloud, do that before the move. You can also digitally store important photos and documents on a hard drive or thumb drive.
Start with organization
Use a system to keep track of what you're packing and where it will go in your new home. Clearly label boxes, and work backwards from moving day to plan which parts of the house you'll pack first.
Go slowly
Give yourself as much time as you can, and start well in advance of your move. This helps you and your family feel less overwhelmed as you transition from one house to the other.
Sell more stuff
As the moving date approaches, chances are good you'll have more stuff than you can take with you. Go through what's left again, then host a final garage sale.
Hire a moving company
If there's money in the budget, hire a moving company. Some moving companies offer full-service moving that includes packing. At a minimum, hire a company that loads the truck and unloads it at your new home.
Keep all of your receipts
Moving expense deductions have been suspended until 2025 for everyone except members of the military. If your move is related to military service, be sure to keep track of all of your moving expenses.
If you've sold a home to purchase a new one, keep in mind you may need to include that on your tax return if you're trying to avoid a capital gains tax. A good rule of thumb: Keep all of your paperwork!
At your new home
Plan for the first night
Moving is exhausting, and it's unlikely that you'll be able to unpack your entire house on the day of your move. Pack a box of essentials for the first night in your new home, including bedding, toiletries, toys, and snacks.
Unpack what's most important first
Pack the truck so that the most important boxes (the coffee maker, personal items, and supplies for the kids) are easily available.
Locate a storage unit
If you aren't quite sure what will fit in your new home, rent a storage unit for a few months. This can handle any overflow from your smaller house while you figure out what you actually need.
Use vertical space
When you're downsizing, your biggest concern might be square footage, but what about utilizing creative solutions that rise to new heights? Think shelving and overhead storage in areas that aren't well utilized (e.g., above cabinets in the kitchen or hanging from the ceiling of a garage).
Consider what else you don't need
You might find when you move into your smaller space that some of the things you thought you required just don't make sense. As a general rule, if you are lugging around old clothing and household goods that have not been used in two years, it's safe to say you don't need them.
Use multipurpose furniture
Consider dual-purpose furniture, such as an ottoman that has storage or beds with drawers underneath. This maximizes every precious inch of space and is great for stashing kids' toys.
Start creating memories
The first few days in your new home don't need to be stressful and filled with anxiety. If it's possible to take time off of work to settle in and start to create rituals with your family, do that.
Ask your older kids for help with arranging their rooms and family areas, and make special dinners to welcome yourselves to the new space.
Be prepared for downsizing pains
Downsizing to a smaller house with children is not always going to be smooth. Transitions are a challenge for everyone, made even more challenging when it seems like you're always running into family members.
Try to stay calm when this happens. It's important to remember that home is wherever your family is together. The space might be smaller, but there's always room for love to grow. Stay positive and work together through whatever conflicts might arise.