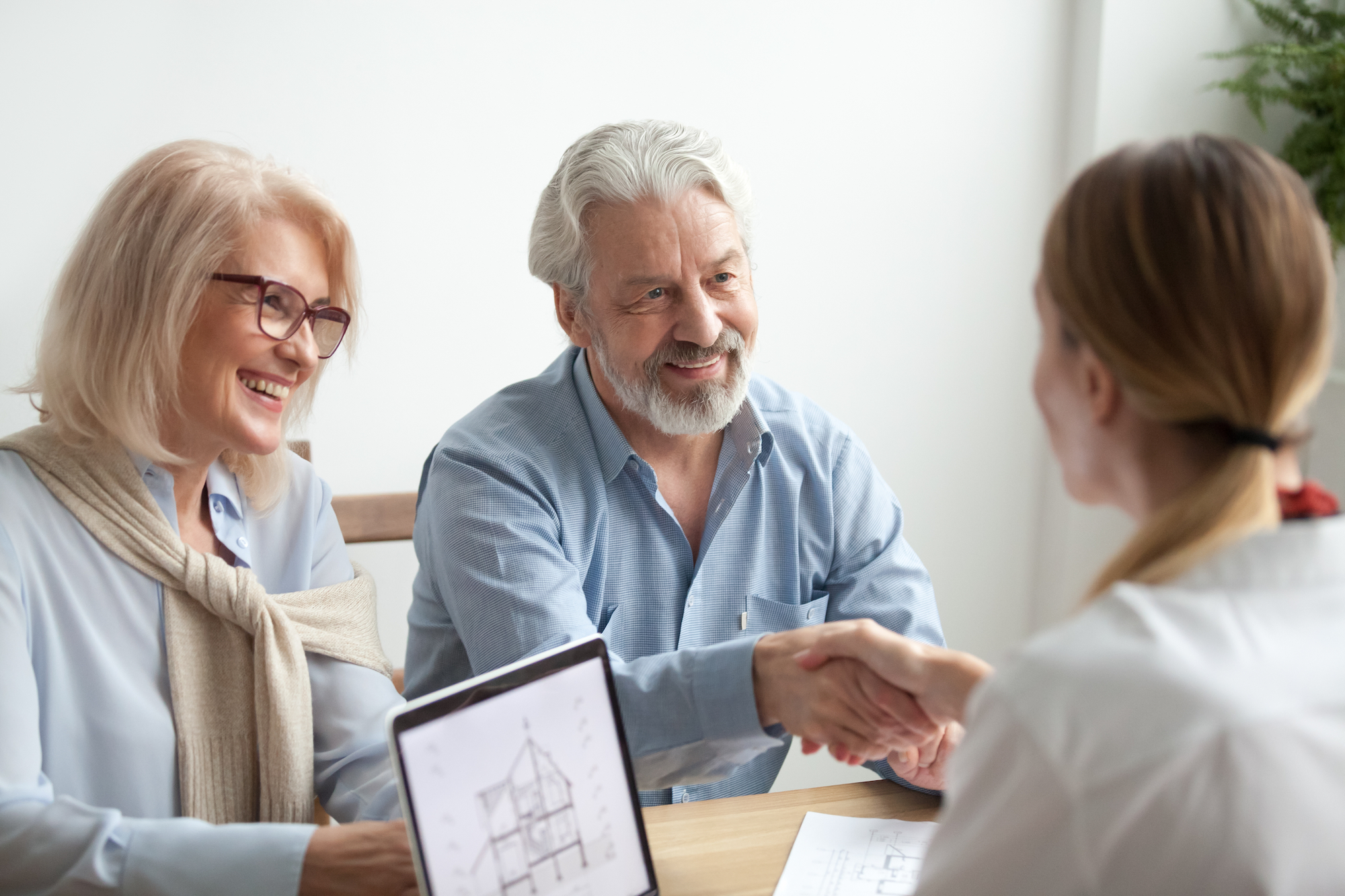 Whether you've already retired or intend to leave the workforce soon, your plans may very well involve moving to a new home. If that's the case, there's a lot to consider before you buy. For example, relocating to a warmer climate might be your top priority, or perhaps you'd prefer to stay in your locale but in a smaller home.
Whatever your retirement dreams, here are 20 things retirees should consider when looking for a new home.
1. Affordability
The most important question to ask before buying a new home for retirement is what impact it will have on your finances. If you're selling an existing home, can you expect proceeds from the sale to cover the cost of a new living space? Will you take out a new mortgage? Be sure to factor in all costs associated with buying and selling, including closing costs, agent commissions, and moving fees.
Also consider how much home you can realistically afford. Your monthly cash flow will likely be an adjustment from what it was during your working years — and your housing budget should reflect your retirement income accordingly. Consider the costs of upkeep and maintenance, insurance, rising HOA fees, and inflation when determining your housing budget.
2. Taxes
Property taxes tend to rise over time, so it's important that the property taxes on your new home are a reasonable fit for your budget. New construction tends to come with a higher property tax burden, while a smaller, previously owned home may have a lower tax bill.
Be sure to understand all the tax implications you could face as you plan your retirement. Selling your home and moving to a state without income tax sounds great, but those states might also have significant property, sales, and capital gains taxes — or no tax retirement benefits at all. Get the full picture of your potential tax burden before you make any decisions.
3. Accessibility
The ability to age in place is a high priority for most retirees, and while accessibility may not be relevant to you now, retro-fitting your home to address these needs later can be expensive.
Single-story properties eliminate most stairs, and open floor plans with wide hallways are generally better suited to accommodate wheelchairs or walkers. To age in place in a multilevel home, look for one with a master bedroom suite on the first floor.
Bathrooms equipped with zero-entry showers and built-in shower seats, higher toilets, and grab bars mean you'll avoid having to renovate a bathroom later.
4. Universal Design Details
Consider other universal design elements when looking for a home that makes aging in place easier such as:
Bright lighting with toggle switches

Lever-style door handles and faucets

Slip-resistant floor surfaces

Multileveled countertops that can accommodate standing or sitting

Cabinetry that can be pulled out or down

Lowered microwaves or raised dishwashers

High outlets that eliminate the need to crouch

Programmable front door locks
5. Storage
Even after downsizing and decluttering, you may still have a lifetime of accumulated possessions. Make sure your new space has enough storage to accommodate what you're taking with you, whether they're heirloom valuables you hope to pass on, or items you'll use everyday.
6. Minimal Yard Work
If your retirement dreams involve cultivating an award-winning garden or perfecting the lushest lawn on the block, by all means, look for a property with acreage that can accommodate. Other retirees, however, would prefer to downsize their landscaping duties or hand off responsibility altogether.
Lawn mowing, snow shoveling, tree trimming, and outdoor plant care are typically included in HOA fees if you choose to retire in a condo community. Other options include hiring a professional service or even an industrious teenager to help with your outdoor needs.
7. Minimal Renovations
If your ideal retirement involves renovating a property to create your dream home — and you have the budget and energy — go for it! But understand the difference between a home that needs cosmetic updates like paint, new carpet and appliances, and one that requires major construction to reconfigure the layout or improve livability. Small projects can quickly spiral into big ones, which might not be what you envisioned for your retirement.
8. Energy Efficiency
More time spent at home means more potential for utility bills to rise. A home equipped with energy-saving appliances, proper insulation, and energy-efficient windows can help keep utility charges to a minimum, a bonus for retirees on a fixed income.
9. High-Rise and Multistory Residences
If you're considering a retirement condo in a high-rise or other multistory building, look for elevators that are wheelchair and walker-accessible, as well as wide, well-lit hallways. Garage parking should also be well-lit and have elevator access.
Keyless entry into units is a plus, as is additional security personnel at the entrance. Make sure security features like self-locking entrance doors, key codes, and intercom systems are in good working order and protocols are enforced.
10. Moving Costs
If your dream location is several states away, don't forget to factor in the cost of a cross-country move. Packing up your belongings, hiring movers at either end, insurance, and other travel expenses for you or your pets can cost anywhere from $1,500 to $6,000.
11. Walkability
Neighborhoods with high walkability scores often receive high marks for public transit and bikeability as well. The benefits of living in a walkable community extend beyond not having to rely on a car to get around. A live-work-play neighborhood with walkable access to services and amenities not only means less driving, but more exercise, and more independence.
12. Transportation
Walkability is important, but so too is available transportation when you need it. If you eventually give up driving, or limit your driving to daylight hours, public transit will be key in maintaining your independence. Easy access to taxis or ride share services should also be considered. Some communities have shuttle services for seniors that run regular routes around town.
13. Local Amenities
Ideally your new community will have easy access to basic amenities, such as grocery stores, pharmacies, banks, libraries, dry cleaners, retail shops, restaurants, and other essential services.
Places of worship, gyms or rec centers, parks, and entertainment opportunities such as museums, theaters, and galleries are also important factors to consider. If frequent air travel is part of your retirement plan, take note of the closest airport.
14. Social Opportunities
It's advisable to consider an area that offers ample opportunities for social interaction, meeting new people, and widening your social circle. These may include community outlets, senior centers, volunteer programs, places of worship, or the cultural or intellectual stimulation you often find in a college town.
15. Access to Health Care
Close proximity to hospitals, clinics, and doctors' offices is a must for your retirement location. Plan ahead to ensure you have quick access to in-network, high-quality health care providers, particularly if you have existing medical conditions.
The same goes for pets and their health care. Make sure there's veterinary care nearby, check where the nearest 24-hour emergency vet facility is located, and figure out how easily you'll be able to access it.
16. Safe Neighborhoods
Low crime rates and neighborhoods that are relatively safe should be high on your list of priorities, as well as well-established police and fire departments, and other emergency services.
17. Proximity to Family
If your dream locale is far away from family and friends who are important to you, be realistic about how often you're willing or able to travel to see them, or vice versa. Travel may be easy now, but consider possible health or financial limitations down the road that may make it challenging.
On the other hand, moving to live closer to your adult children and grandchildren might not work out to your favor, as they may eventually move away for jobs or other reasons.
Make your choice based on the best options for you, your finances, health, and lifestyle.
18. Climate
Moving to a warm-weather climate is a no-brainer for many retirees who never want to deal with subzero temperatures or shoveling snow again. However, if you've pinpointed an ideal location with four seasons, make sure you spend time visiting during each season to get an accurate idea of what life will be like during each one. You may love a Michigan summer and fall but find the winters intolerable.
19. Access to Support Services
Research availability of services like Meals on Wheels, home health care, adult day care or other senior living facilities if you or your spouse or partner come to require more full-time care.
20. Lifestyle vs. Budget
Ultimately, a happy, healthy retirement is one that balances your lifestyle and budget. Although it's important to make good financial choices, picking a retirement destination based solely on its low cost of living, lax tax policy, or favorable benefits for seniors isn't necessarily the best move.
Evaluate the community based on what's important to you, your interests, hobbies, and hopes for retirement.