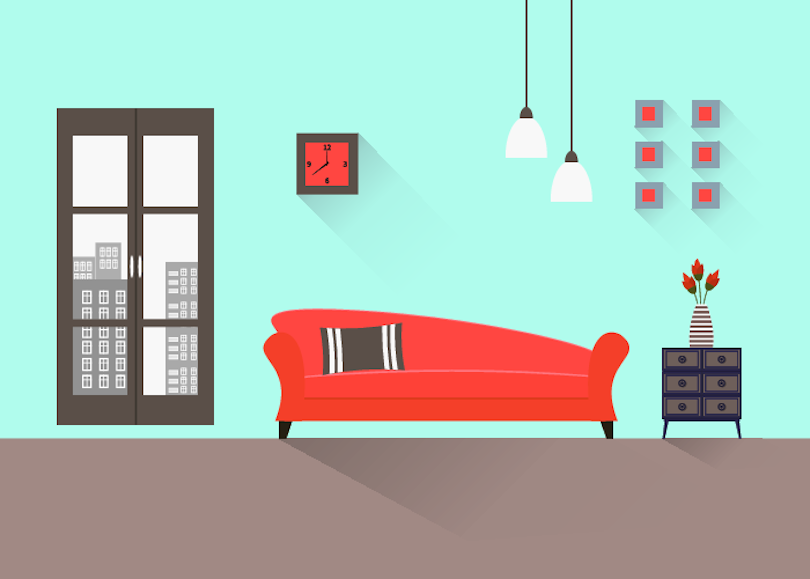 Temporary housing is more than just a medium-term stay in an Airbnb or a disaster shelter when tragedy strikes.
Some Americans need the flexibility of renting as they decide where they want to live and search for a home in the perfect neighborhood. Others often find an apartment or rental property works best when they are:
Selling a house without buying another or waiting to purchase a new home

Undergoing a major remodel on their primary residence

Waiting on insurance to repair a damaged home

Working an out-of-town contract job
Whether you're a die-hard renter in between long-term residences or a real estate owner who needs temporary housing, here are 19 ways to make an apartment feel less temporary without spending much.
1. Add plants
Plants are a great way to immediately bring life into a temporary space. This includes growing a windowsill herb garden, buying a seasonally blooming plant, or twining vines around the room.
Keep in mind that not all residences are equally hospitable to house plants. For example, if you're moving from snowy Michigan and are trying to make your new residence in Arizona look more homey, your cold-loving plants may not thrive.
2. Hang curtains or blinds for privacy
Window treatments can get pricey, but shop carefully and you can instantly change the look and feel of your apartment. Start with affordable horizontal blinds for privacy, then add a dramatic sweep of curtain to the ground or a playful swag above the window.
3. Shop estate sales and yard sales
Nothing makes you feel better after a long, hard day than coming home to a cozy sofa or overstuffed armchair. Although furniture can be expensive, estate sales and yard sales are great places to find high-quality furniture at a budget price. The best deals are often found when homeowners are listing their home and just don't want to move their old furniture.
4. Browse Facebook Marketplace
From the kitchen to the bedroom, Facebook Marketplace is another affordable way to furnish your home. You'll want durable, but attractive, furnishings that will withstand multiple moves.
5. Use rugs to pull the room together
Rugs define spaces and add texture to a room. They are also an anchor for furniture and a way to settle into your apartment without making a big investment. Although you can buy fancy rugs that cost thousands of dollars, many discount stores have beautiful choices for $100 or less, including the pad.
6. Display personal photos, artwork, or other mementos
Many homes feel temporary because there's no sign of the people who live there. Personal mementos — including photos, artwork, and tchotchkes — personalize the space and make it feel occupied.
7. Create a functional and well-organized storage system
If your apartment situation is short term and you don't want to unpack everything, put most boxes away and invest a few dollars in a well-organized storage system. Nothing screams, "This is temporary" more than cardboard boxes in the living room.
8. Use throw pillows and blankets
Another way to personalize your apartment without breaking the bank is to add color and texture with throw pillows and blankets. Throw pillows can be interchanged to instantly alter the decor, while warm, fuzzy blankets draped over the back of the couch are inviting.
9. Install shelves
Bookshelves, kitchen ledges, and other types of wall storage for personal items make an apartment feel more occupied. These can be found for just a few dollars at home improvement stores or sometimes for free in the neighborhood.
10. Add table or floor lamps
Not only are table lamps and floor lamps easy to add, they can also travel with you when you move to a permanent place. A good rule is to have four different sources of light in a room. This includes natural light, an overhead light, task lighting, and accent lights.
11. Add a statement mirror
Mirrors reflect light and fool the eye into thinking the space is larger than it actually is. Floor mirrors can be very dramatic, but if you want to dial down the drama, consider hanging one over a fireplace or behind the sofa.
12. Create a gallery wall
A gallery wall enhances your photos by grouping them together in an intentional and well-designed arrangement. Consider a mix of art and personal photos for more interest. Use adhesive strips to avoid drilling multiple holes in the walls that you'll later have to fill.
13. Use decorative baskets and containers
For just a few dollars, decorative baskets add extra storage and organization. They're more than just a place to stash your stuff, though. Natural wood adds warmth to any style of decor.
14. Don't forget the finishing touches
Some tenants in temporary housing figure they'll make do with the basics, but it's the finishing touches that make a place feel more personalized. Add decorative accents, such as vases full of flowers and candles, to make your temporary home feel more cohesive.
15. Utilize a balcony or patio
If you're lucky enough to have an outdoor space, take advantage of it. A bare patio looks abandoned, but a comfortable seating area shows you've made a home there.
16. Use wall decals or stickers to add a personal touch
Most tenants can't paint their walls without permission from their landlord. Instead, add wall decals and stickers to make the space your own in a less permanent way. This is especially good for children's rooms.
17. Use a shoe rack to keep the entryway organized
Just as a half-empty room looks deserted and unoccupied, a cluttered entryway is another telltale sign that you're just passing through. Look for an entryway organizer that works as a shoe rack with hooks for keys, bags, and backpacks.
18. Engage all of the senses
If you add candles and vases of flowers as finishing touches in your home, they'll not only look beautiful, they'll spread an inviting aroma. You can also use essential oils in a diffuser. Choose a scent customized to your home and mood.
19. Invest in quality kitchen tools and cookware
You'll need to eat even if your home is temporary. Invest in high-quality kitchen tools and cookware, then throw a housewarming dinner party. Nothing makes a house feel more like a home than sharing a meal with family and friends.