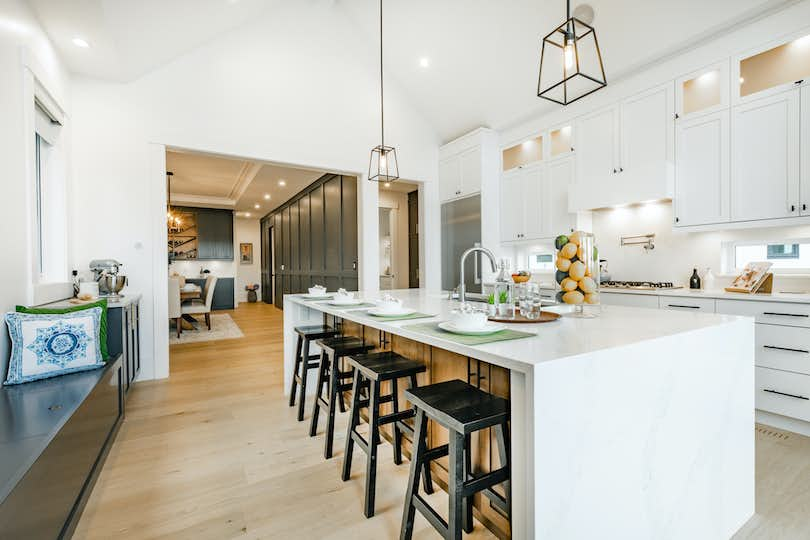 No matter how beautiful your home is, it will still require a little extra attention when it's time to sell. Staging is one of the best ways to get top dollar for your house, but it's important to do it right. Watch out for these 20 home staging mistakes that could hurt your home's value, making it difficult to sell quickly and for the right price.
1. Too much furniture
Staging is all about inspiring potential buyers. The layout should give them an idea of the space's potential, but an excessive amount of furniture can make rooms feel small and enclosed. If you go overboard, potential buyers touring your house may feel like they can't see through all the noise to envision how their own belongings would fit.
2. Furniture that doesn't fit the room
Furniture that doesn't fit the size of the room can be a big deal breaker. An oversized couch in a tiny living room will only accentuate the lack of space, while small furniture in a large room will make it feel as if the room is too difficult to fill. Focus on creating balance in each room by choosing furniture that is complementary.
3. Excessive clutter
Decorating with too many knickknacks is a quick way to overwhelm potential home buyers. When it comes to tabletops and shelves, less is more. Lean in to basic and timeless decor that will help your home feel beautiful yet lived in. Consider vases with fresh flowers and simple coffee table books or candles.
4. Keeping too many personal items on display
Sellers fill their homes with many personal photos and mementos. Unfortunately, a home that feels too personalized hinders buyers from visualizing themselves in the space. Try to replace large hanging photos of your family with artwork, and remove small frames or items that are personal to you.
5. Colors that don't coordinate
If your personal style is eclectic, it could hurt you when it's time to sell. Most buyers don't want rooms with glaringly different paint colors. If one is blue, the next is yellow, and the other is green, it's time to do some painting. Lean into a color palette that is well coordinated and provides flow from room to room. When in doubt, don't be afraid to use one color across the entire home.
6. Going overly neutral
Neutrals are safe. They're also easy to decorate around. From beige to light gray, these colors effortlessly coordinate. Unfortunately, going overly neutral can make a home feel cold and monochromatic. Try to use a pop of color here and there, even if it's as simple as draping a throw blanket over a chair or using bright couch pillows. This will help your home feel vibrant and welcoming.
7. Keeping the decor too bland
Just like you can go overboard with decor, it's possible to be too bland or understated. For example, bare built-in shelves will not help a home sell. Try to find thoughtful pieces that appeal to a range of home buyers, regardless of their personal design style. Whether it's fresh flowers or a stack of books, you need something to spruce up these nooks.
8. Neglecting the exterior
Curb appeal is a major factor for home buyers, but it's often overlooked in the hustle and bustle of staging. Your landscaping should be in pristine condition, as well as your approach to the entry area. Add a nice welcome mat, door wreath, and a pot of flowers to bring the entire outdoor aesthetic together. First impressions are everything.
9. Missing the focal point
Decorating around a focal point is Design 101. The good news is, it's easier than you think. For example, the focal point of your dining room is likely the table. In a bedroom, it's probably the bed. Once you find your focal point, everything should be placed in a way that complements that piece and draws your eyes to it.
10. Skipping a deep clean
Staging shouldn't be confused with cleaning. A perfectly staged home must also be clean from top to bottom. This usually requires a deep cleaning to ensure every area is properly dusted and scrubbed down. If possible, hire a professional service to guarantee a thorough cleaning.
11. Leaving rooms vacant
It can be tempting to focus on the "important" rooms and leave others vacant, but this approach can cost you. Staging your home means staging every room. This doesn't mean you have to spend a fortune buying new furniture and decorative items, but at least demonstrate the functionality of every room.
12. Covering the windows
Natural light is one of the easiest ways to create beauty and depth in a home. Don't cover your windows with heavy or dense drapes that will make rooms feel dark and dreary. If you have blackout shades in your bedroom, pull them back and secure them with a tie or hook.
13. Avoiding simple improvements
Even the tiniest home improvements can make a house stand out. Baseboard touch-ups and a fresh coat of cabinet paint are some of the basic ways you can improve the look of your home without spending a lot. Plus, the difference could lead to more money in your pocket from potential buyers.
14. Blocking the view
Whether it's a view of the mountains or a city sunset, buyers want to know what they'll see when they look out the window. Don't impede your views with excessive plants or pieces of decor. Use complementary pieces to enhance the views outside your home and show its potential for enjoyment.
15. Poor lighting
In addition to creating opportunities for natural daylight, be mindful of the lighting available in each room. Provide adequate lighting in rooms that may get less sunlight during certain times of day. What's more, invest in lightbulbs that mimic soft and natural daylight. Buyers are turned off by bright white or fluorescent lights because they feel manufactured and cold.
16. The DIY approach
If your home requires extensive staging, it's helpful to call in the pros. There are companies that do it all from start to finish, allowing you to sit back and relax. Other staging professionals can work with you to provide guidance and advice on your specific space and what you should prioritize. Consider one of these approaches if your real estate agent thinks it will be necessary.
17. Lack of strategy
Don't wing it when it comes to staging your home. In fact, don't move a single piece of furniture until you have a plan. Strategize with your real estate agent and a professional staging company to hone in on your ideal home buyer and how to attract them. This will help you get the maximum amount you want for your home on closing day.