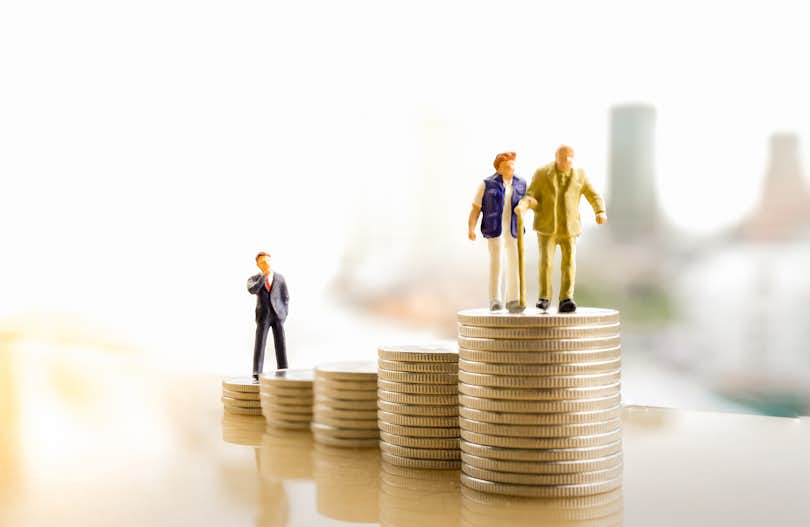 Managing your money in retirement is a unique challenge. Whether you're planning for your retirement or have already begun collecting Social Security, it's important to know how much you might need to live off of, and how to make more income if you don't have enough saved.
Unfortunately, many retired Americans are struggling to stay afloat financially, according to a new study of 1,000 retirees from Clever. Here's what the data revealed about the state of seniors' finances.
1. Retirement savings have dropped
When you're retired, the amount you have in savings helps supplement your living expenses, along with Social Security. Unfortunately, many retirees have less in savings than in previous years.
In 2023, the average retiree has $170,726 in savings — a 10% decline from the previous year and just 31% of the $556,400 experts recommend.
2. Most retirees do not have the recommended amount of money saved
So how much do you need to afford retirement? That all depends on your cost of living, Social Security benefits, where you live, medical conditions, and other factors. But, in general, experts recommend aiming for about $555,000 in savings by the time you retire — though saving more is always better.
As of 2023, only about 12% retirees have at least $555,000 in savings, with the vast majority of retirees falling short of the recommended amount.
>>NEED A BETTER CREDIT SCORE? Get a free credit evaluation from Credit Saint!
3. Many retirees have no retirement savings at all
Although Social Security can help supplement your retirement savings, the payments are generally not enough to cover all of your expenses — especially if you have hefty medical bills. Yet, many retirees don't have even a penny saved towards retirement.
In 2023, 37% of retirees interviewed said they had no retirement savings at all.
4. About half of retirees anticipate outliving their retirement savings — and may be looking for other ways to earn money
Even if retirees do have a savings fund — it doesn't mean it's enough to cover all of their years in retirement. Nearly half of retirees (48%) believe they'll outlive their retirement savings
This means many retirees might be looking for additional income streams to help boost their savings. One avenue to explore is renting out a second property — or investing in a new real estate property to rent out — to make passive rental income each month.
5. Retirement costs shock most retirees
You might think you know how much it takes to retire comfortably, but without an active income stream, you may be surprised by the costs that pop up. In fact, 57% of retirees were surprised by how much it actually costs to retire.
One way retirees can make extra money after exiting the workforce is by selling their house so they can downsize and buy a new, more affordable home to enjoy during the rest of retirement. (Here is a list of 20 things retirees should look for in a new home.)
>>TIRED OF BAD MOVES? Check out the best moving companies in your area and get free quotes.
6. Most retirees blame their former employers for not helping
Many people believe that over the course of their working years, they'll have plenty of opportunities to acquire adequate savings and a good retirement plan through their employer.
But 60% of retirees felt like their former employers did not do enough to help them prepare for retirement. Whether that's educating employees on the importance of retirement savings, offering better workforce plans, or even matching retirement contributions, many people feel employers can do better.
7. Even if you have savings, inflation may have eroded them
With inflation levels at record highs last year, retirees on fixed incomes felt the sting more than many others. In fact, 83% of retirees said inflation has impacted their retirement savings.
But there is a bit of good news — if you collect Social Security, you're getting an 8.7% cost-of-living adjustment (COLA) in your benefits this year, to help keep up with the high rate of inflation that's taken a bite out of many retirees' finances.
8. Many retirees find it hard to afford essentials
Between inflation and insufficient savings, retirees are finding it hard to afford everyday essentials. When surveyed, 44% of retirees said they struggle to afford basic living expenses.
One way retirees may be able to free up some room in their budget is by refinancing their mortgage into a new, lower interest home loan. This can reduce your monthly payments or save you on interest over the lifetime of the home loan.
A qualified realtor can help you get started. Alternatively, partner with a real estate agent or brokerage to list your current home and buy a new one in an area with a lower cost of living, to help reduce your expenses and put some extra cash in your pocket. Just be sure to factor closing costs into your plan.
9. Retirees are often forced to stop working sooner than planned
Waiting longer to retire generally translates into a larger monthly payment from Social Security. However, you don't always get to choose when you retire. About 2 out of 3 retirees (65%) in the study indicated that they stopped working sooner than they had originally planned. And half of that group cited health concerns (50%).
10. Additionally, some retirees regret their retirement date
Although retiring sooner may sound appealing, it also means you're missing out on earning an income and additional years of saving. Plus, as mentioned, you may get a higher Social Security payout by waiting to retire.
Some of the retirees surveyed in this study seemed to agree, with 30% of retirees saying they retired too soon.
11. Even retirees are battling debt
Debt isn't just a phenomenon among the young. Just like student loans, many retirees may still be dealing with high-interest debt, such as credit card debt bills or medical bills. In fact, 71% of retirees have non-mortgage debt, with an average balance of $19,888. And 18% of retirees have medical debt, with an average balance of $10,259.
If you enter retirement with a hefty amount of debt in your name, consider taking on extra work to help pay it down, rather than pulling from your retirement savings.
If you need medical assistance or simply want to be closer to grandchildren, one way to save money so you can repay your debt faster is by moving in with family members into a spare bedroom, carriage house, or basement apartment. This allows you to live on lower or reduced rent, and can help you pocket extra savings when selling your home.
12. For some retirees, Social Security is a lifeline
Although Social Security is meant to help supplement a retirees' income, for many, it's their only means for survival. About 30% of retirees surveyed rely on Social Security as their sole source of income.
This might mean that retirees struggling with income streams are changing their retirement plans. One option is to move to areas with lower costs of living so they can better afford the lifestyles they want in retirement. This might mean changing your plans of buying a home in Florida, for example, to a more affordable state or moving away from highly coveted beaches or cities to slightly more rural areas with more affordable home prices.
If you're not sure where to get started, you can talk to a realtor to find out where some of the most affordable places to buy a home in retirement are.
13. Many retirees still need to work
In addition to rental income, many retirees have side hustles, paid hobbies, full-time employment, or other jobs that keep them busy during retirement. In fact, some retirees may not have enough savings available to live without working. And, according to the survey, 1 in 3 retirees (32%) have considered rejoining the workforce in some capacity.
If you need additional funds or a short-term loan you plan to repay, consider taking out a home equity loan or home equity line of credit (HELOC) against your current home. This allows you to tap into a portion of the equity you've already built into your home and can offer you a loan or line of credit at much more favorable rates.