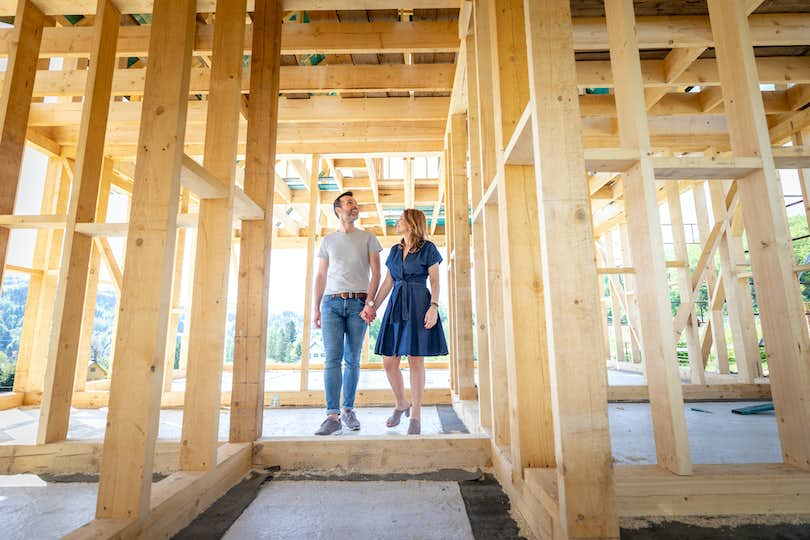 For many people, owning a home is part of the American dream. And perhaps no type of homeownership better represents an America of endless possibility than buying a newly constructed home.
New construction homes give homeowners the chance to live in a place that has only ever been theirs. Sometimes, newly constructed homes are even specified to a buyer's preferences — providing a custom experience unavailable in homes that are years or decades old.
Despite the demand for these homes, some Americans are pessimistic about the state of the economy and real estate market. If you're in the market for a home in 2023 and considering a newly built model, check out these 12 trends in new construction homes.
1. Home-building rates are still low
Homeownership may be an American ideal, but building new homes is highly difficult.
In fact, homebuilder sentiment is at its lowest point since the Great Recession, which has depressed the number of new homes under construction and limited new home options for would-be buyers.
Home-building sentiment is low because:
Home-buyer demand has dropped as rising interest rates have pushed up mortgage rates.

The cost of building materials, such as lumber, has increased due to inflation and years-long supply-chain snags.

The cost of labor, such as skilled electricians and construction workers, has risen due to the fastest surge in inflation in decades.
Basically, it's expensive to build new homes and increasingly difficult to sell them at a high price. This means that the most significant trend in new construction homes is that there aren't many new homes being built.
2. New home prices are tapering, but still high
Home prices — including newly built homes — have t apered since the Federal Reserve began raising interest rates to combat inflation. But despite the wobbly economic outlook, new home prices are still higher than many buyers can afford.
There are several reasons why new home prices remain high. For one, demand for homes remains high, and demand for newly built homes is particularly strong. With limited new home construction, demand continues to outpace supply, buyers spend more time on the market, and prices remain high.
Inflation also plays a role. Higher inflation means that building new homes is more expensive, and those costs are passed on to home buyers through higher prices. In general, inflation raises the price of everything — homes included.
3. It's still possible to find a good deal on a new construction home
It may sound like a paradox, but despite limited inventory and high prices, you can find some of the best home deals available on the market in newly constructed homes.
Keep in mind that building homes is an expensive enterprise. Selling homes at the highest-possible price might be homebuilders' objective, but what they can't afford is to have homes sitting unoccupied for months on end.
Sales of newly built homes dropped by 16.3% from December 2021 to December 2022, which means that home buyers have leverage in 2023. Builders are offering incentives to home buyers, including:
Mortgage interest rate buydowns

Free upgrades of the home or property

Mortgage rate locks

Reduced home prices
Homebuilders need a return on their investment, which means that they may offer you incentives to close on a home.
4. Anticipate the ability to negotiate
Compared to older homes, buying a newly built home in 2023 may give you the opportunity to negotiate price.
In fact, 31% of homebuilders reported reducing home prices in 2023. Working with a savvy real estate agent can help you negotiate prices and reduce your down payment, mortgage payments, and the overall cost of owning a home.
5. Virtual new-home showcasing is still popular
Virtual tours may feel very 2020, but when it comes to newly constructed homes, be prepared to tour properties virtually.
For one, buying newly constructed homes often means coming to a buyer's agreement before the home is fully complete. You may be receiving a virtual home tour because there is not yet a finished product to see. Also, virtual home showcasing is popular if you are buying a new home and relocating to a new metro area.
6. Building with the home office in mind
Five years ago, the nature of office work was different. In general, people went to their jobs in person, five days per week, no questions asked. Times have changed, and new home construction has adapted.
Now, homebuilders are often considering the need for home offices when they design a home. With years of remote work behind and ahead of us, be prepared to encounter new homes that have a designated office space.
7. Eco-friendly design and construction
A major trend in home building and design is eco-friendliness, and it's likely to remain popular in 2023.
Eco-friendly design and construction in new homes can take multiple forms. Eco-friendly homes may be built with sustainable materials, or with the infrastructure to support renewable energy. If you're looking for a home fitted to charge your electric vehicle, a newly built home could be your best bet.
8. Blending outdoor and indoor living
With people spending more time in their homes since the start of the pandemic, a seamless indoor and outdoor living space is a trend to look out for in newly constructed homes.
Indoor-outdoor living spaces are connections between indoor and outdoor areas on a property. Sliding glass doors, open-air living rooms, and covered patios are all popular indoor-outdoor living concepts.
Newly constructed homes in warm weather states, such as Florida, California, and Arizona, are now likely to include indoor-outdoor living spaces. For buyers in the market for a newly built home, they may even be a requirement.
9. Flexible rooms
For many people, the home is now the office, and the office is now the home. That has increased the need for flexible, as-needed rooms in newly constructed homes.
In 2023, it's normal to have real estate agents or homebuilders pitch properties because they have flexible rooms that can serve different purposes at different times. What's an office at 11 a.m. may be a family room at 8 p.m., and what's a home office one year may be a gaming room the next. Be prepared for rooms that have an undefined, flexible purpose in newly built homes.
10. Reduction in open floor plans
In many respects, the rise of remote work has incentivized flexibility and a blurring of work and home. But it has also led some people to develop a strong desire to set boundaries, and has reduced the number of homes being built with an open floor plan.
The reality is that working and living in a home results in the need for privacy and quiet. Open floor plans make this difficult, and as a result, open floor plans in newly built homes are less popular than they were a decade ago.
11. Focus on wellness
Home is more than a place to live and work. It's now also a place to work out, and that means newly built homes are more likely to have a focus on wellness.
With inflationary prices, paying for a gym membership can break the bank. Instead, many buyers of newly built homes are purchasing and commissioning homes that have some type of built-in workout space.
Whether a large basement or an actual dedicated workout room, thinking about where the treadmill or dumbbells will go is a much bigger consideration for millennial and Gen Z buyers than it was for their parents or grandparents.
12. Popularity of universal design persists
It's not an easy time to buy a home, so people who are in the market to buy are looking for a home that will last. To address this expectation, newly built homes are more likely to include universal design.
Universal design is a promise that a home will be accessible to occupants of different ages and mobility levels. It means no-step entrances into the shower and living rooms that aren't sunken. In short, universal design means a home that you can get old in. If you're buying a forever home, universal design is a must — at least if you don't want to end up in the home-buying market again in five, 10, or 25 years.