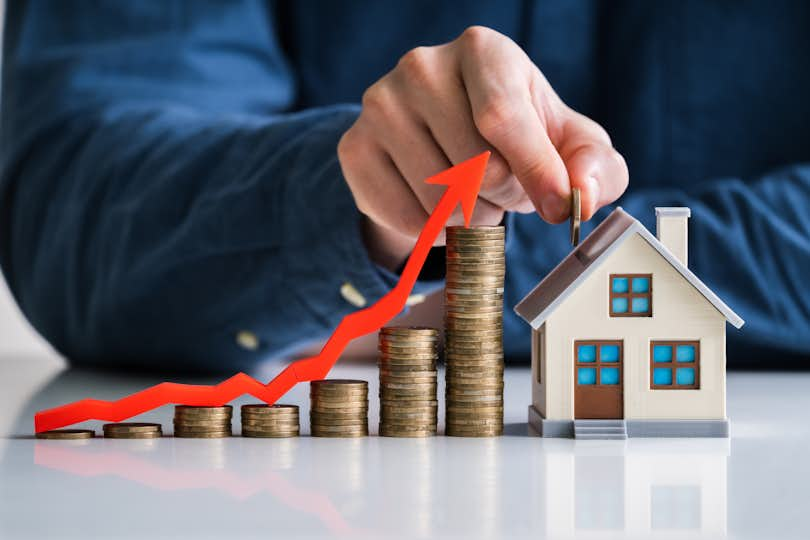 Investing in real estate has many advantages. But if you've never owned a home or have your first mortgage, it may seem like a dream that's out of reach. But it's easier than you think to invest in real estate, whether actively or passively. That means investing and flipping homes or renting them out for income, or investing in real estate projects, trusts, and crowdsourcing funds.
Here are 12 reasons why you should consider investing in real estate.
1. To grow your wealth
This may seem obvious, but if you want to build out your investment portfolio or increase the amount of money you receive each month or year, investing in real estate can be a great option. While all investments are tricky, real estate is something that's never out of style. People always need houses to live in, so by making smart investments, you can build a reliable and healthy source of supplemental income — even by buying just one additional property.
2. Real estate appreciates over time
While many assets tend to depreciate rather quickly — cars, for example — real estate often appreciates over time. That means the value of the properties you buy is likely to go up, not down.
So, if you invest in a $400,000 home and rent it out for several years, you can not only earn income during the years you're renting, but you can also often turn a profit when selling it down the road since the value is likely to be higher. This makes real estate a good long-term investment option.
3. Steady cash flow
If you want to become a landlord and own one or several properties, one thing you can count on by investing in real estate is steady cash flow. When you rent your properties or the units within them to tenants, you can expect a monthly rent check from each of them. Of course, you'll want to vet tenants carefully — check their credit histories to make sure there are no red flags indicating they cannot afford their rent or are not great at managing their finances.
4. Collect passive income
When you earn money regularly, without having to work for it daily, this is called passive income. Let's say you invest in five real estate properties, rent them out, and hire a property management firm to handle any rental requests. In this case, you're not dealing directly with tenants, and after paying the property management company, you're still collecting income each month. If you want to generate extra cash without working for hours each week, real estate is one option to consider.
5. You can get started without much funding
Typically, you need a large sum of money to invest in anything. But with real estate, you can borrow money from banks, private investors, or other mortgage companies to fund the investment property. If you don't have $250,000 for that rental property, you can get a mortgage from the bank and use rental income to pay down the mortgage. After the loan is paid off, you still have a valuable asset you can resell or continue to rent for income.
Plus, if you have a good credit score, you can lock in a lower mortgage rate, saving you potentially tens of thousands in interest over time.
6. Allow you to work for yourself
One of the biggest benefits of investing in real estate is that you can turn it into a full-time job if you want to. Not only can it replace your day job, but it also allows you to work for yourself, a freedom many covet. That means setting your hours, investing in the properties you think are worthwhile, and not having to answer to a boss daily.
Of course, it's still a lot of work, will require partnering with an experienced real estate agent, and will require some legwork to manage your taxes. But for many, it's more than worthwhile.
7. Boost your equity
When you buy a home and pay down your mortgage, you gain access to something called equity, which roughly equates to the amount of money you have available to you from your property purchase. For instance, if you bought a $300,000 home, put $30,000 down, and have paid off $70,000 in principal, you technically have access to $100,000 in equity.
You can then tap into that equity through a line of credit or HELOC (most banks allow you to tap into only a percentage of it) so that you can withdraw funds whenever needed for additional real estate projects or other large expenses. You can also borrow directly with a home equity loan. You'll need to pay this money back, of course, but it can be a helpful way to fund new real estate projects while borrowing from yourself, at more favorable terms.
8. Get returns sooner than investing in the stock market
Another top reason to invest in real estate? The return on investment. While investing in the stock market can be risky or may not bring you valuable returns for several decades, you can realize returns on your investment even sooner with real estate. You can hold and sell after five years, for instance, to see a considerable profit, and don't have to wait until you retire to see strong earnings.
9. More predictable returns
In addition, your ROI is often more predictable with real estate than it is with investing directly in the stock market. It's difficult to predict where a stock will go over time, but it's much easier to predict monthly rent payments or approximate how much you'll earn by flipping a home. You'll need to do some research to fine-tune your estimate, but it's still much easier to know what you'll earn ahead of time.
10. You can write off depreciation
While real estate tends to appreciate over time, the building itself may depreciate, which is something you can write off on your taxes. For instance, if you have a rental building, the IRS estimates it has a lifespan of 27.5 years. So, you can divide your costs by this figure to determine how much you can write off in depreciation costs each year, to help lower your tax bill.
11. There are tax incentives
There are many other real estate deductions you have access to as a real estate investor. Not only can you deduct mortgage interest payments on your properties, but you can also deduct the operating costs of your rental property, property taxes, maintenance expenses, and even insurance.
And, you can even defer capital gains (the amount you'll owe on the profit you'll make from the sale of a property) by buying a new property within a certain time frame. This is called a 1031 exchange.
>>TIRED OF BAD MOVES? Check out the best moving companies in your area and get free quotes
12. It can help boost your retirement savings
If you're worried about not having enough saved for retirement, investing in real estate can help in several ways. Having access to real estate also allows you to build up equity, which can be helpful in retirement. You can place profits into retirement funds or even manage rental properties for extra income after you retire to boost the amount you'll earn each year.