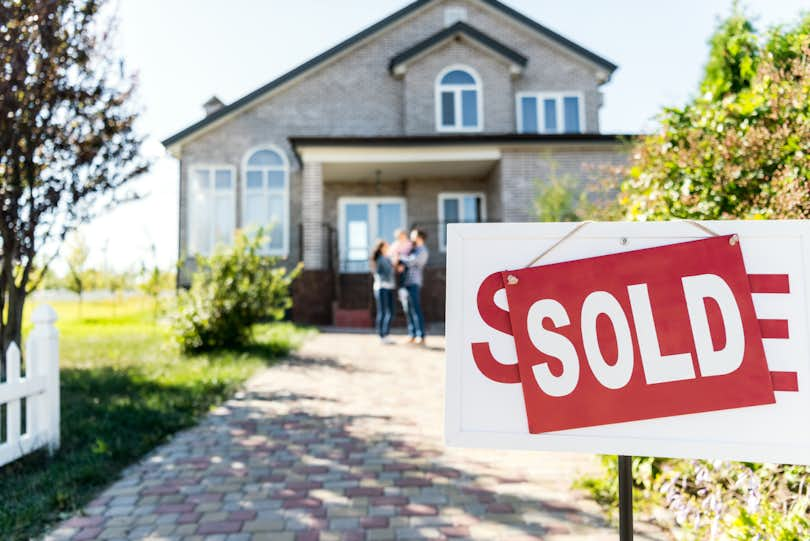 Selling a home is often time-consuming and overwhelming. In addition to preparing for photos and tours, most homeowners also have a long list of things to fix.
It leaves many sellers wondering, what are my options? Are there faster ways to sell my home? If this sounds like you, read on for 10 different ways to sell a house.
1. Work with a real estate agent
It's the tried-and-true method most people go with — working with a realtor who will list your house and handle all inquiries.
In this scenario, the agent can arrange professional photos and carefully craft a description for the listing. From there, your home will be on the MLS and other real estate websites.
Your agent may also host an open house and schedule private showings for potential buyers, carefully helping you consider (and hopefully accept) an offer. They'll guide you to closing and coordinate the necessary paperwork.
>>TIRED OF BAD MOVES? Check out the best moving companies in your area and get free quotes.
2. Find a discount or flat-fee agent
Working with a real estate agent has advantages, but one downside is the amount of money you'll lose by paying commission. This is where discount or flat-fee agents come in handy.
A flat-fee real estate broker will sell your house for a fixed amount rather than the standard 3% listing fee. But it's important to consider a company that still provides all the perks you need. Avoid brands that have overly reduced or limited services to ensure a smooth process from start to finish.
Furthermore, a discount agent can also help you save on listing fees and commission. Many of these real estate agents provide services that are on par with traditional realtors but for a fraction of the price.
>> GET A FULL-SERVICE AGENT AT A 1.5% COMMISSION. Get personalized agent matches today from Clever Real Estate with no obligation.
3. Sell to a cash buyer
If you're looking to sell fast, cash buyers are a great option, but they do come at a price.
Often, all-cash offers come from companies that try to race to the finish line. In fact, many of these deals close within a week or two. This is appealing for someone who is facing foreclosure or has a home with major flaws and issues. You can generally sell your house as-is on a short timeline.
Every deal is different, but most of the offers come in at 50% to 80% of what the home is worth. If the necessary repairs aren't that significant, you could see the company quickly turn around and resell the property for much more money.
4. Work with an iBuyer
If you're intrigued by the cash buyer option, but don't want to lose out on value, an iBuyer may be the perfect middle ground.
iBuyers tend to be more selective about the houses they purchase, which means your home will have to be in fairly good condition. Having said that, every iBuyer has different requirements. This is an overview of the typical criteria a house must meet:
Valued at $100,000 to $600,000

Located on 1.5 acres or less

Owner-occupied

Constructed after 1930

Only in need of minor repairs
The timeline with an iBuyer is still usually tight, meaning your home could be sold within two weeks. What's more, you'll probably earn more than you would if you used a cash buyer. But it's also important to note that iBuyers usually only operate in major cities with robust real estate markets, so this may not be an option for every seller.
5. Consider a FSBO sale
Selling your home without any real estate agent or brokerage is considered for sale by owner (FSBO). People rarely go this route, in fact, only 7% of homes are successfully sold this way. Most of these instances involve a seller and buyer who know each other.
And although people think it's a great way to save on agent fees, there are drawbacks. First, many FSBO transactions don't result in as much profit. Second, it can be a slow process because marketing a house on your own is difficult.
If you're committed to the idea of trying FSBO, be sure to list your home on a third-party aggregator such as Zillow, as well as other FSBO websites.
6. Trade in your home
Available in select markets, home trade-in services are relatively new but still worth considering. How does it work? Companies like Orchard or Knock front you the money to buy a new house before you sell your current one. After you move out, they help you list your home on the open market.
In theory, you reap the benefits of using an iBuyer without having to sacrifice so much of the value you have in your home. In addition, many trade-in providers will offer interest-free loans to assist you in taking care of minor repairs and improvements before selling.
One of the major benefits of going this route is avoiding the possibility of having two mortgages at once. Plus, you can make a non-contingent offer on a new house because you're backed by the trade-in company.
7. Consider a rent-to-own agreement
If you need to move, but you're unsure about the current market conditions, selling under a rent-to-own agreement may be a viable option. Instead of paying two mortgages, you may be able to find tenants who will rent your home with a commitment to eventually purchase it.
The potential buyer will usually supply a nonrefundable deposit that goes toward the down payment before renting your home for a period of time (usually one to three years). The rent money often goes toward the eventual purchase price of the home. Your renter will then follow through on the agreement and purchase the home at the end of the time frame.
8. Auction off the property
Selling your home via auction can result in a simpler process because there's no negotiating involved. Plus, the winning bidder must accept the property as is. There are no inspections, appraisals, or contingencies.
Auctions may take place in person or online and bidders often have to register in advance. An "absolute" auction gives the house to the highest bidder. An auction "with reserve" refers to the lowest bid the seller is willing to accept. If the highest bidder comes in under the reserve, the seller can choose to reject the offer.
9. Sell to an investor
Real estate investors make money by buying properties, improving them, and renting them out. They may also resell when market conditions are favorable.
The benefit of selling to an investor is that it's usually a hassle-free transaction. You won't have to worry about making repairs or waiting for the buyer to secure a lender. These deals typically close on a faster timeline as well.
10. Look into a short sale
A short sale refers to situations where you sell your home for a net sales price that is less than what you owe your mortgage company. In general, this is seen as an alternative to foreclosure. It is reserved for urgent situations due to the fact that your credit will suffer. That said, it's much less detrimental than a foreclosure and eviction.
Make the right choice
It wasn't long ago that there was only one route to go with when selling a home. Today, technology has opened the door to many other options. The best scenario is one that allows you to profit from the sale on a timeline you're comfortable with.