Purchasing farmland requires careful consideration of important details which, if left uncertain, could directly benefit or hinder your farm's future financial performance. These ten tips highlight important questions you should ask prior to purchasing.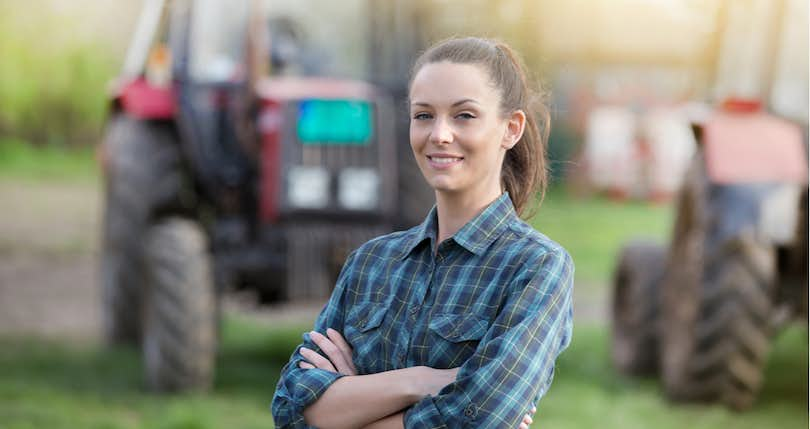 Purchasing farmland requires would-be buyers need to take more details into consideration than if purchasing a residential home. Depending on the type of farm, location, and future business goals of the farm, buyers should employ the following method to determine if the farm is the correct fit for your needs.
Looking for the perfect tract of farmland?
Find your slice of heaven with a Clever Partner Agent.
Lay out Realistic Expectations
Before you even begin to troll the pages of FarmFlip or scour listings on Zillow, determine what type of farmland you want and outline a plan for the next few years. If you have the money and are convinced you want to turn to farming as more than just a hobby, it can be tempting to buy a turnkey operation, completely set up and already producing.
However, buying a farm is much different than running a farm. Even small operations require countless hours of work, leave minimal (if any) room for vacation, and consist of ever changing tasks. Tour as many farms as you can prior to purchasing, talk with established farmers about daily chores, and view a variety of low-acreage operations to see just how much you can accomplish by starting small.
You'll want to determine if your goal is to make money, have fun, care for the land, or just learn about farming by putting it into practice. This will help you determine the type and acreage of land you will need going forward.
Consider the Topography
If you plan to graze livestock on your potential farmland, you'll want to make sure the location sees plenty of rainfall or has water rights to local rivers or reservoirs. Sunlight orientation can make or break your farm if growing crops. Consulting with local farmers near your intended land can be helpful when analyzing the plot's topography.
Growing crops requires fertile soil, plenty of sun, and large quantities of water. A wooded, shady lot in Florida might not be your best bet for growing sweet corn but could yield itself to medicinal herbs or mushroom production. Decide what you want to grow then take a look at the topography.
Analyze the Infrastructure
If you're planning to live on the farmland in a separate structure, this is especially important. Acreage may appear cheap and available in certain locations. However, many of these inexpensive plots have zero infrastructure which will mean the buyer must spend additional money drilling a well, connecting utilities, installing a septic tank, and more.
If you need outbuildings for poultry, pigs, horses, or storage, this can also add to the cost of purchasing an empty parcel of farmland. The more rural you go, the cheaper land can be, but the less accessible it is to construction companies, plumbers, utility companies — you get the idea. Figure out how much time and money you're willing to spend on getting the farm up and running before purchasing a plot with no infrastructure.
Consider Fencing Costs
Grazing cattle, raising horses, or even tending sheep requires solid fencing. The cost of installing a fence to even one acre of land isn't cheap. If you want to run electricity out to it, that will increase the price and you'll need to guarantee the property is serviced by the nearest utility company or install your own alternative energy sources on the property.
Let's say you have a little less than two acres you want to fence in and you've calculated the project to require around 1,320 feet of fencing. A woven wire fence, which is sufficient for grazing cattle, will set you back $1,987. Imagine if you had ten acres to fence in, or twenty, or fifty. The cost can add up quickly.
If you want to avoid this additional charge, look for fenced land. The actual perimeter fencing will most likely require minimal repairs but can get you by until the farm turns a profit and you can upgrade the fence.
Who Owns Gas, Mineral, and Wind Rights?
Unfortunately, purchasing the land doesn't always entitle the buyer to everything on that land. Mining and drilling can greatly affect the overall quality of the land and can have a negative impact on the surface land, soil, and water in the area.
If the gas, mineral, or wind rights are already under contract, you may deal with others having access to certain areas of your property, impeding your ability to fully utilize it.
Location and Proximity
Do you want to be close to town, have quick access to an airport, or be able to pop to the store for an extra ingredient needed in your dinner recipe? Perhaps you desire solitude and isolation from the potential farmland and want to be far away from the drone of airplanes or the sound of highways.
Consider the pros and cons of living near amenities. As life goes on, you may want easier access to hospitals, farm supply stores, a mechanic, etc.
Prior Land Use
If the land was previously utilized as farmland, it's vital to check on prior herbicide applications. Certain herbicides have lasting effects and will greatly limit the variety of crops you can plant.
Other environmental factors may also be of concern and it's imperative to test the soil. The soil may be high in lead, mercury, arsenic, or other contaminants that will not yield to healthy vegetables or animals.
Access to Property
If you plan on operating an industrial farm, you'll need plenty of access points, turn around space, and loading areas for large transportation trucks. Is the access road riddled with potholes and gulleys or is it well-maintained?
Does it get flooded with heavy rainstorms or packed with snow? No matter your future farming plans, a decent road to and from the property is a must.
How Friendly are the Neighbors?
Now, they don't need to be of the Leave it to Beaver variety, but you also want to avoid a Hatfield and McCoy feud if a hog slips through your fence and creates a wallowing hole on the neighbor's land. Talk to the surrounding property owners to get a better feel for their daily routine, farm aspirations, and personalities.
If your property is in the middle of nowhere, chances are you'll rely on the person two miles away for a cup of sugar instead of the town on the other side of the pass.
Cell Phone Reception
Certainly something our grandparents didn't have to consider, we are almost totally reliant on our cell phones. Paying bills, renewing insurance policies, paying tickets, managing finances, and more is done completely on the phone for the majority of Americans. If you plan to have WiFi, this may not be as important.
However, in case of emergency situations, power outages, or internet outages, it can be imperative to have some cell reception on your rural lot.
While there are a few more details to consider when buying farmland, it can be a worthwhile endeavor for those looking to learn more about the agriculture industry, have a full time retirement project, or turn a profit by raising sustainable meats or organic crops.
Partnering with a local real estate agent will prove valuable during your farmland search. They will be more familiar with zoning laws, water rights, and land use history. A Clever Partner Agent can also point you in the direction of farms you might not normally consider but that could fit your overall goal. Call Clever today for a no-obligation consult to enlist the help of a knowledgeable professional on your farm-buying journey!