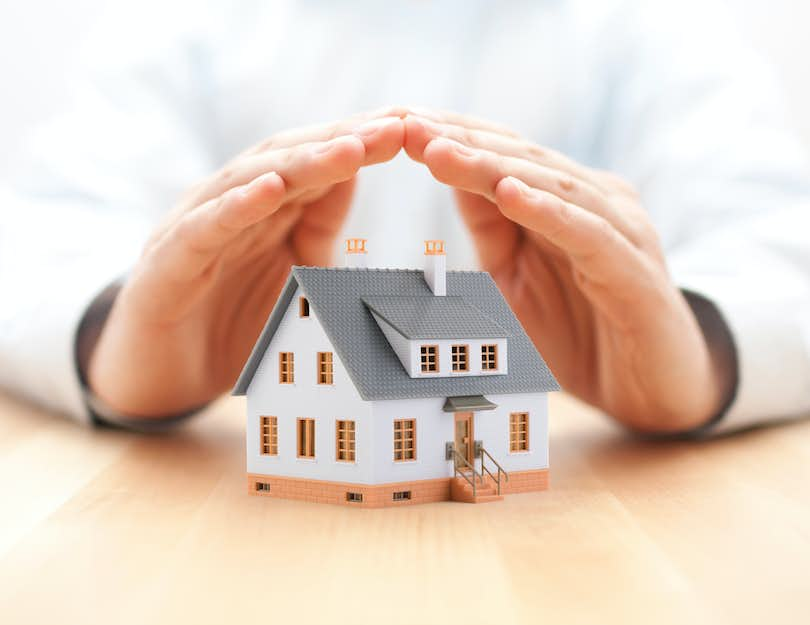 So you've upgraded your home to offset your capital gains tax or to accommodate your growing family, and it's time to reevaluate your home insurance policy. Many homeowners don't take the time to read their insurance policy to see what's covered and what's not — often with disastrous results.
Don't be caught unaware. Here are ten surprising things home insurance covers (and seven it doesn't).
10 surprising things homeowners insurance covers
When it comes to surprising things your homeowners insurance covers, it's always important to read the fine print. Some of the losses below are covered only to a certain point or if qualifying criteria are met.
1. Home invasion … with conditions
If you are the victim of a burglary, homeowners insurance typically covers any damage or theft that occurs. But one surprising type of home invasion that insurance also covers? Damage done by wild animals. If a bear or deer comes crashing into your home, many insurance policies cover the damages they cause.
Most policies do have limitations on what they consider "wild." Your new puppy may be crazy, and the squirrels in the attic may be crazy-making, but neither is likely to be covered. Read the fine print.
2. Your college student's electronics
Buying a laptop or tablet to send off to school with your college student? If they live on campus, chances are good it's covered by your homeowners insurance. Even if your child is not living on campus but instead resides in an investment property you purchased for them to occupy while they're in school, you might still be covered by your main policy.
3. Identity theft
Some home insurance policies offer coverage for expenses related to identity theft. Even if this coverage is only included with the purchase of a rider, it's invaluable if you are the victim of this crime.
Identity theft coverage provides some or all of the following:
Lost wages

Tailored assistance from a fraud specialist

Assistance related to the fraud, including helping with legal issues (i.e., audits or hearings)

Professional help to restore your credit

Reimbursement for the cost of replacing legal documents such as Social Security cards, birth certificates, and passports

Reimbursement of bank fees and other application fees

Reimbursement of attorney or court fees
4. Spoiled food
As with all unusual items that home insurance covers, spoiled food may be eligible — with caveats.
If your food spoils due to a regular power outage you're out of luck. But if the power company suffers a lightning strike that takes out their generators for days, chances are good you'll be covered.
But keep an eye on your deductible. If your policy covers $500 worth of food spoilage and your deductible is $1,000, it's not a good claim.
5. Aggressive pets
If your pet bites someone on your property, your home insurance policy may cover the medical expenses and legal fees associated with the incident. This falls under the same category as a trip-and-fall claim arising from your property.
However, some insurance companies are now charging extra for homeowners who keep "aggressive" breeds — and denying claims if those breeds are not listed on the policy.
6. Storm-related landscape damage
Before you laugh at the idea of filing a claim to recover losses of a tree that is blown over by a storm, consider this: a mature Japanese maple tree can be worth $15,000 or more. These trees can live over 100 years and provide a beautiful focal point to design your landscaping around.
So yes, check those trees. They could be worth more than you think.
7. Volcanic eruptions
Yes, these are rare, but when they occur destruction is often total. Many home insurance policies do cover volcanic eruptions of the following kind:
Volcanic blast

Airborne shockwaves

Ash and dust

Lava flow
Fires and explosions that occur as a result of the eruption are also covered. So that new siding melted by fire that breaks out when electrical wires are toppled onto your home is covered.
8. Riot and uprisings
Home damages that occur during riots, uprisings, or other types of civil unrest may be covered by home insurance (car insurance typically covers your vehicle).
Damage may include:
Vandalism

Looting

Destruction of property
Keep in mind that this coverage is not usually included when the damage is caused by an act of war.
9. Outbuildings
Building a man cave or a she-shed in the backyard and wondering if you'll need a separate policy to protect it? Relax — home insurance typically covers these structures. As long as it is separate from the main dwelling and used primarily for recreation or personal use (storage buildings count). The best news about this type of coverage is that some policies offer coverage that is included at no extra charge.
Outbuildings include the above-mentioned cave and shed as well as:
Barns

Chicken coops

Guest houses

Greenhouses

Gazebos

Attached garages
Note that things like landscaping are covered separately from outbuildings.
10. Other house-related coverage
In addition to the other structures and surprising incidents that are covered, most home insurance also covers damage or total loss to:
Your mailbox

Swing sets

Fences

Driveways
7 surprising things home insurance does not cover
You've closed on your home, moved in, and are ready to live your best life. But it's not quite the time to relax. Here are seven things your home insurance does not cover.
1. Flood
Standard home insurance policies typically do not cover damage caused by floods. Homeowners may need to purchase a separate flood insurance policy to protect their homes and belongings from flood damage.
Did you start your home search online and are unsure if you're buying a house in a flood zone? Check out the Federal Emergency Management Agency's (FEMA) flood zone map before you buy. Sellers are also required to disclose known hazards, but due diligence is ultimately the buyer's responsibility.
2. Moving earth
Most home insurance does not cover any type of earth movement, including but not limited to:
Earthquakes

Mudslides

Sinkholes

Mudflows

Earth-based shockwaves (but air-based are covered)

Subsidence
However, if someone breaks into your home that has been damaged by earth movement and steals your belongings, insurance may cover it. In an ironic twist, if your home is damaged by earth movement and then catches fire, insurance might pay for that, too.
3. Sewer backups
No matter if it's caused by old, city-installed pipes or overambitious tree roots, most home insurance does not cover sewer backups or pipe damage. This terrible situation is inevitable in cities across the U.S. with underground pipes that can be 100 years old or older.
You may try to save money by selling your house on your own, but don't skimp on this coverage. Consider purchasing a separate policy to protect yourself against failed pipes and the (smelly) problems they can cause.
4. Pest damage
Strangely enough, insects and rodents are not considered "wild" by most insurance companies, which means the damage they cause is not covered under a standard home insurance policy.
Don't ignore the threat of these pests. According to the Environmental Protection Agency (EPA), termite damage costs people in the U.S. billions of dollars annually, and rodents cause damage and spread disease. Add this important coverage to your policy, and regularly treat your home for termites and rodents.
5. Wear and tear
Home insurance policies do not cover damage that occurs naturally over time due to wear and tear, such as peeling paint or a leaky roof. And if interior damage occurs due to lack of maintenance, your insurance company may deny coverage to repairs damage they would normally reimburse for.
Repair those leaky pipes, clean those gutters, and replace that roof. Use any rebates or cash back you get at closing to make these improvements or save for them gradually.
6. Business-related damage
Homeowners insurance policies typically do not cover damage to property or belongings that are used for business purposes. This includes any injury to people coming to your home to receive in-home services or to consult.
If you do run a business out of your home, update your insurance policy to make sure you're covered. This is not generally necessary for people who are shifting to remote work for their company, but it doesn't hurt to ask.
7. War or terrorism
If a citizen vandalizes your house during civil unrest, you're covered, but if the government drops a bomb on your neighborhood in an act of war (or a terrorist targets your city), you're on your own. This also includes any damage caused by nuclear weapons or incidents (such as a reactor meltdown).
Why are war and terrorism excluded? Insurance companies claim they have difficulty calculating the actual costs of reimbursing homeowners during war. Whether this is accurate is unclear, but fortunately, this is not a major concern for the vast majority of people living in the U.S. (with some shocking modern-day exceptions).
How to protect yourself
Some people wait to conduct an annual audit of their homeowners insurance, but disasters don't follow a calendar. If you cannot locate your policy, call your insurance company to request a copy via email so you have an electronic record.
Take the time to review:
What's covered if your house is a total loss (market value vs. replacement cost)

Your deductible

Coverage that you have opted out of (on purpose or without knowing)

What living expenses are covered if you are displaced

Any limits on personal property replacements
Don't try to save money by getting a barebones policy. If money is tight, there are other ways to buy a house and still protect it. Consider opportunities to cut costs when you buy your home, or consider unusual home buying opportunities such as buying a foreclosure. But don't neglect to protect your investment with the proper amount of coverage.