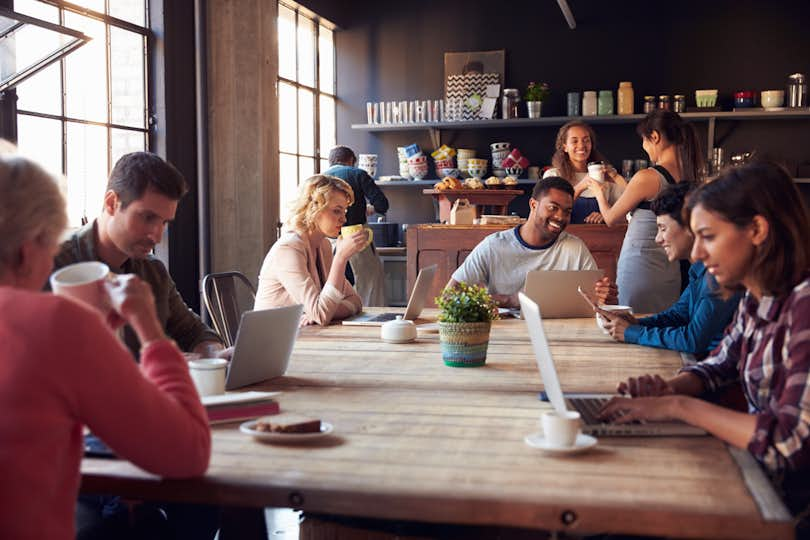 It's a morning ritual for people across the country — that cup of coffee is a must-have! In fact, coffee reigns as America's favorite morning beverage with 491 million cups consumed every day.
But where can you find the best and most diverse range of coffee offerings? The number one spot to snag a cup of joe is Baltimore, Maryland. On the opposite end of the spectrum, Louisville, Kentucky finds itself ranked as the worst city for coffee.
Here's a look at which cities made the top 15 best coffee cities.
#1 Coffee City – Baltimore, MD
With 26 coffee shops per 100,000 residents, Baltimore has a café for everyone! What's more, it's a city where a fancy cup of coffee is a serious bargain. The average price for a cappuccino is $4.50, a 5% discount compared to the average price among our other top coffee cities.
#2 Coffee City – Hartford, CT
What's more perfect than the pairing of coffee and donuts? Get your fix of both in Hartford. With 24 coffee shops and 17.7 donut shops per 100,000 residents, you won't have to look far for a winning breakfast combination.
#3 Coffee City – Boston, MA
People in Boston love their coffee and many of our survey respondents agree that they belong at the top of this list. In addition to being a tourist destination with plenty to see, 12.9% of people indicated Boston as a city with a top-five coffee scene.
#4 Coffee City – Providence, RI
The Ocean State capital city is a sight to see. This town is a wonderful place to enjoy the ocean breeze and do a little sightseeing, coffee shops included. With 45 coffee shops per 100,000 residents, Providence has nearly twice the number of coffee shops than the average.
#5 Coffee City – Riverside, CA
Calling all java lovers on a budget! Riverside's average cost for a cup of coffee comes in at just $3.88, which is 18% less than the national average of $4.76. Visit the Golden State and drink coffee without worrying about your bank account.
This city also rounds out the top 10 best taco cities in America, so make sure you stick around for lunch!
#6 Coffee City – Cincinnati, OH
You may associate Cincinnati with chili, but the natives love a hot cup of coffee as well. Although only 3% of respondents indicated the city as a place with a top-five coffee scene, Cincinnati, Ohio hosts an annual two-day celebration of all things java. The Cincinnati Coffee Festival takes place every fall, attracting thousands of visitors.
#7 Coffee City – Washington, DC
It's safe to say there's a coffee shop around every corner in our nation's capital, which probably makes sense as legislators and their staff work to keep the country running. With 58 coffee shops per 100,000 residents, this city comes in with well over twice the average per capita numbers in our study.
#8 Coffee City – Philadelphia, PA
The City of Brotherly Love ranks high among our top coffee cities — and people are willing to do the research! Philly has an average Google Trends score of 67.8 out of 100 for a variety of coffee terms. That's 18% more than the average of all cities in our study. Unfortunately, it may be because there are fewer coffee shops to go around with just 23 per 100,000 residents.
#9 Coffee City – Pittsburgh, PA
Another Pennsylvania city found its way to the top of our list. Pittsburgh is right behind Philadelphia when it comes to coffee appreciation. The average price for coffee may not seem like a deal at $4.12, but that's a 13% savings compared to the national average of $4.76. Remember, more money in your pocket means more coffee!
#10 Coffee City - Oklahoma City, OK
Oklahoma City is ranked high when it comes to finding the best BBQ, but that's not all the Sooner State does well. You'll find it sliding into the top 10 of our best coffee cities list. With standout local spots like Culture Coffee and Clarity Coffee, you can find a great cup of java for an 8% discount when compared to the average of $4.76 among other cities in our study.
#11 Coffee City – Dallas, TX
Deep in the heart of Texas, you'll find a love for coffee that runs deep! Dallas is known for a lot of things, but an impressive 12.3% of Americans picked the city as a top five coffee scene in the country. Even better, you can pair it with one of Texas' famous baked treats, the kolache. All you need to decide is whether you want sweet or savory!