I might get in trouble with the National Association of Realtors for saying this, but I'm just a member stating the truth: The U.S. economic system greatly benefits homeowners, but house renters must fend for themselves.
Homeowners enjoy a tax code that allows them to write off their mortgage payments. They get generous capital gains exemptions when selling their primary or even a second home. They enjoy a path to financial stability with their home appreciation.
But people who rent single-family homes? They face skyrocketing rents, especially in recent months since pandemic protections began phasing out. And even worse, many house renters end up in the middle of a scam. You must watch out for yourself, because the system often won't protect you.
Here are two scams I've seen involving single-family home rentals – plus one that's not quite a scam but usually a raw deal for renters.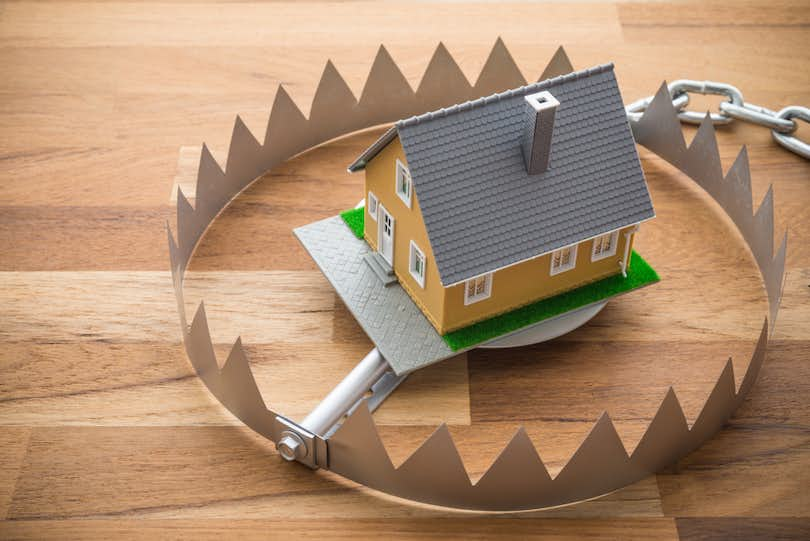 Scam 1: The rental listing that's also for sale
Most renters work on their own without an experienced realtor to protect them. And we realtors often are of little help to renters. There's typically less profit, so most of us spend little time with rentals.
As a result, renters get used to operating without a net: filling out long applications, undergoing repeated credit checks (which can lower their credit scores), and sometimes being rejected. It gets pretty frustrating trying to find a place to live.
Many are vulnerable to scams like this first one that I encountered a few years ago as a listing agent.
I had just listed a property here in Maryland. After a few days, I started getting emails and calls from prospective renters inquiring about the property and wanting to see it. I told them the property was not for rent.
However, unbeknownst to me, a scammer had duplicated the listing on a listserv and offered it as a rental, even though they had no agreement to market the property. They would collect personal information and even credit card numbers and tell the unsuspecting renters that they could "see" the property once the credit check ran.
Of course, there was no way they could "see" the property except online. But the damage was done. Some victims called me to say they lost $500 or more as a "deposit," and the scammers got all their credit information. Eventually, we got the fake rental listing taken down but not before scammers obtained personal information and money from several people.
Bottom line: NEVER give any financial information to a property management company or landlord BEFORE seeing the property! It's OK to give your driver's license or other ID, but not a credit card, bank account or Social Security number. It's probably a scam if they say they can only show you outside because they "don't have the keys" or "it's tenant-occupied and I need to give them notice."
If the house is listed for sale on various MLS sites, but the "landlord" says it's also for rent, that's a scam. Most real estate sites won't allow a property to be listed as both for sale and for rent at the same time to avoid scams like these.
Scam 2: The rental house that's in a short sale or foreclosure
If you've watched the movie "The Big Short," you know what I am talking about here. In the runup to the 2008 housing collapse, we watched as thousands of homes were being foreclosed on or short-sold.
Some unscrupulous homeowners and landlords continued to rent the property right up until the foreclosure auction, or the sheriff's deputies showed up to evict the renters.
The landlords pocketed the rent money, stopped paying their mortgages and let the homes go up for short-sale or into foreclosure.
Be suspicious if the rental deal looks too good to be true, or if there's no credit check or deposit. Also, ask questions if the house comes fully furnished but it's under market price. Make sure it's not in foreclosure.
Most foreclosure proceedings are public documents and available online, but renters may not check. And short sales may take place outside of the court system.
Often a raw deal: rent-to-own
A "rent-to-own" home may seem like a godsend, especially if you can't qualify for a mortgage. You rent until you're ready to buy, your rental deposit turns into a down payment, and your monthly rent payments count toward a down payment or mortgage.
» RELATED: Pros and cons of rent-to-own in today's market
While this isn't a scam, it's usually not a good investment for a renter. Here's why. A seller wants to sell the house, not rent it. They're taking the risk of a market downturn or your financial situation worsening, having to wait a year or more for the tenant to come up with the cash or improve their credit. That's a big risk on the seller's side.
That's why they often require a hefty down payment (or non-refundable deposit) to take the house off the market for a year while you, the renter, get your ducks in a row. Those non-refundable deposits could be a year of mortgage payments for the seller in advance.
Moreover, you're locked in as a renter. You must perform as agreed or lose your deposit. The seller might agree to take the house off the market, but they might still sell it out from under you. Your only recourse would be to become a squatter, complicating life for the seller and the buyer.
Bottom line, you have little reason to enter a rent-to-own deal, unless it is exactly the home you want and there is no other option.
My view: Like dating, there are plenty of fish in the sea. No home is worth losing $20,000 or more for in a rent-to-own deal.
Related articles