A Redfin report finds that a record number of home buyers are looking to relocate to an affordable city.
While moving to a new place may intrigue you, it can also lead to culture shock and social isolation for some people.
So, if you're feeling a little out of place after a move — or considering whether a long-distance move is right for you — here's some advice from people who've been there.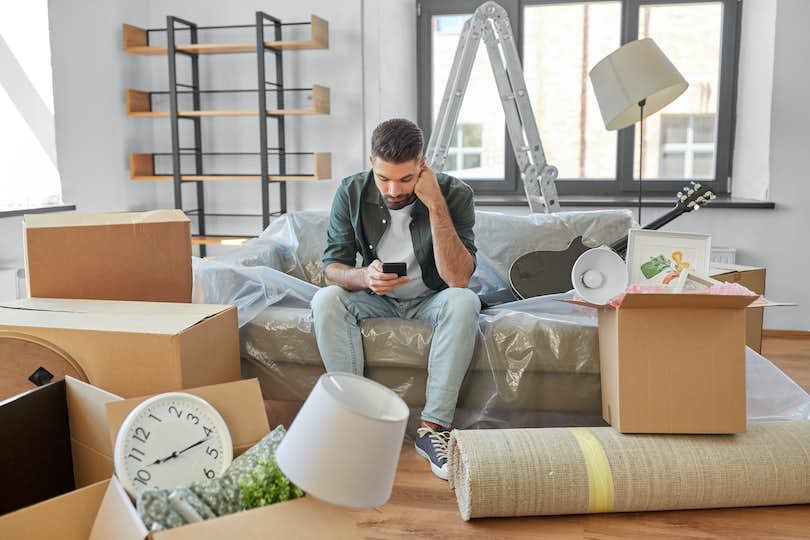 A big move can get emotional
You may feel all kinds of emotions — good and bad — before, during, and after a move. Many people discover that their initial excitement gives way to sadness, loneliness, or remorse.
For example, psychologist Lisl Foss shared her experience in her TEDx Talk called Relocation: The woes, the grows, and glows. She recounts that she was "eight months into my new life after moving and the honeymoon phase was over. I was feeling tired, depressed, demotivated, and mostly confused about what was happening to me because I had wanted this change."
However, knowing upfront that a move can lead to various emotions can help you handle any emotional highs and lows.
The highs
Excitement about a fresh start in a new place
Reinventing yourself or starting a new chapter in their life
Exploring new opportunities, interests, cultures, and lifestyles, including new foods, music, and activities
Meeting new people with different backgrounds and life experiences
However, while moving can be an opportunity to step outside your comfort zone, it's not always an entirely new beginning, as some people discover.
As MacKensie Cornelius shared on Quora, "It really is a fresh start — but not the same as a blank slate. You will bring your personal quirks with you where you go. You have a chance to meet people as you are now without being held to who you were in the past."
The lows
Feeling less in control over your daily life
Struggling to adjust to new surroundings or create new routines
Increased stress and feeling overwhelmed due to multiple changes and less predictability
Feeling isolated or lonely due to limited local social support
Fearing you've made a mistake by moving and will lose touch with family and good friends
Feeling too stressed, overwhelmed, or sad to push yourself to meet new people or engage in activities outside their new place
Additionally, being away from familiar places, shops, and even brand items can increase your feelings of stress, anxiety, or loneliness.
For example, Nina Yanez says that moving to Canada from a small Oklahoma town was "a lot tougher than I honestly thought. Every single time I go grocery shopping I don't know where anything is at, I don't recognize any brands, not to mention just all the people everywhere."
Getting used to a new community can take time, especially if you relocate alone.
As one Reddit user suggested, "Be prepared for a degree of instability in your personal life as you get settled in. Give yourself 12-18 months to get in your groove in terms of your social circles, job, living situation, and personal life."
In addition to giving it time, you also can take active steps to help you settle in and build a new fulfilling life – including meeting new people so you feel less isolated or lonely.
Here are five ways to adjust after a move
1. Get active
Many Reddit users recommend joining a gym or a local group focusing on a sport or physical activity you enjoy.
One Reddit user found that this fosters "a sense of community and gives a chance to talk to new people and form new friendships with someone who already has a common interest."
The key is making sure you're taking time to meet new people. For instance:
If you join a gym, take some group classes.
Join a club that meets regularly, like a bicycle club, running group, or climbing group.
Join a local sports team, such as a softball, flag football, or basketball league.
2. Join a hobby-based group to meet people
Finding a group that engages in your interests or hobbies is a great way to meet people and enjoy a common interest. In addition, this approach is less stressful since you know beforehand that you'll have this big thing in common.
As one Reddit user mentioned, "Building a base of new friends through D&D is what kept me sane after a move."
You can often find groups by:
Using sites like Meetup, Reddit meetups, or Facebook groups
Checking the local library or community center for regular groups and events
Checking for postings at a local coffee shop, bookshop, or game store
Stop in stores that may sell items related to your hobby to see if there are groups that meet up there
Look for local chapters of any associations you may have belonged to before, like book clubs or running groups
When meeting up with new groups, be sure to keep safety in mind — meet in a public place and let someone know where you're going.
3. Find a nearby spot that becomes 'your place'
Being in a new community can be exciting, but having a familiar place where people recognize you is also comforting.
Several Reddit users recommend finding a restaurant, coffee shop, bookstore, or bar near your home that you frequent regularly. "Once the regulars and staff have gotten to know you, you always have somewhere to drop into if you're feeling lonely."
This place can become an anchor for you where you can feel a sense of familiarity and belonging.
4. Play tourist to explore your new town
Playing tourist can be a fun way to become familiar with your new town and meet new people.
For instance, you can:
Ask locals what they enjoy doing and where they like to hang out.
Check the local paper or city's website for upcoming festivals or events.
Attend events at the local library.
Explore by walking around the town or city so you can easily step into restaurants or shops that catch your interest.
5. Be open to new opportunities and talk to lots of people
Being new to an area can be the perfect chance to stretch outside your comfort zone and try new activities.
For instance, you can try volunteering at a local animal shelter or join a group that helps prepare meals for those in need.
To meet new people after a move, one Reddit user joined a book club, started taking music lessons, and got a dog. But she also recommends talking to people you meet and letting them know you're new in town. "I made a few friends this way, just talking to people in restaurants, the grocery store, and the laundromat."
Final thoughts
Moving is a significant life event. And it's natural to feel a mix of emotions before, during, and after the move.
It takes time to figure out a new place and build a new support system, but with some effort and the right mindset, you can establish routines, develop rich friendships, and build a life you enjoy.
In the meantime, remember to be kind to yourself and take each day as it comes.