The days of advertising products solely through 30-second television commercials and full-page newspaper spreads are long over. Marketing and advertising is now an online game — and the shift to digital will only get more pronounced over time.
A study of 1,000 Americans conducted by Real Estate Witch reveals just how influential online advertising is when it comes to how young Americans decide to spend their money. In fact, 79% of Gen Z respondents say they've purchased a product or service because of an advertisement on social media — only 48% of baby boomers have done the same.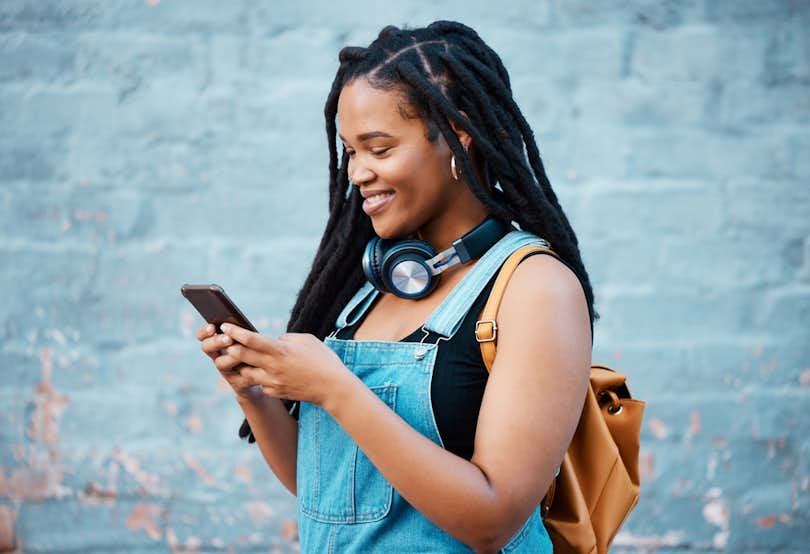 What makes young Americans such a receptive audience for social media advertisements and branded content? What platforms are young people using? And how do online influencers fit into the digital marketing mix?
Gen Z is the influencer generation
To talk about Gen Z social media behavior is to talk about the rise of online influencers. Influencers are social media users and digital creators with a large, engaged following. They're considered cool and credible — the popular kids in the proverbial school of social media.
The Real Estate Witch study found that nearly 3 in 5 Gen Z Americans (58%) have bought a product or service recommended by an online influencer, something only 13% of baby boomers have done.
"People use social media to feel included and to try to find an idealized version of their own life," says Matt Carlson, a 25-year-old digital marketer. "Being hit with visually appealing influencer marketing can be really powerful."
Carlson says that influencer marketing is particularly effective for fashion and beauty products, and acknowledges recently being persuaded on Instagram to make a purchase himself.
"I was influenced to buy clothes because the clothes looked really great, and I wanted to look as good as the people I was seeing wearing them," Carlson says.
When asked which types of product reviews they find most important, 13% of Gen Z respondents in the survey said reviews by influencers — the highest share of any American generation, and an indication of the strong hold influencers have on young Americans' buying decisions.
Video is key for Gen Z advertising, but TikTok is not the most popular channel
Despite the headlines, dances, and trends, the most popular Gen Z social media platform isn't the much-hyped TikTok. The Real Estate Witch study found that nearly 2 in 3 Gen Zers (64%) visit YouTube at least once daily, more than the 62% who use TikTok daily.
Gen Z Americans use YouTube more than any other social media platform, and YouTube is also used daily by more than two-thirds of the millennial generation (68%). Although Elon Musk's purchase and management of Twitter receives plenty of attention, only 30% of Gen Z and millennial Americans actually use that platform every day.
YouTube is an especially useful marketing resource for people like Anne-Marie Faiola, the CEO and founder of Bramble Berry Handcraft Provisions, a company specializing in soaps, lotions, and similar products. Faiola, whose YouTube profile has over 600,000 subscribers, says the platform is a rich channel for targeting consumers with educational content because it provides space, time, and a visual format.
"We include tutorial videos on YouTube because some of the techniques used in our crafting niche are difficult to explain with words. Video is a much better format," Faoila says.
The tendency of companies like Faiola's to populate YouTube with long-form visual content builds trust and authenticity. That may be why Americans of all ages rank YouTube as the most trustworthy social media platform. Meanwhile, they rank TikTok as the least trustworthy.
Facebook vs. Instagram: A millennial-Gen Z advertising divide
When it comes to social media, one of the big differences between millennials and Gen Z is their preference between Facebook or Instagram. Millennials are 34% more likely to use Facebook daily compared to Instagram, while Gen Zers are 29% more likely to say they use Instagram daily.
Faiola says that Instagram is popular with Gen Z in part because it includes high-quality user-generated content, which has specific marketing advantages, including:
Social proof: Brands often encourage customers to use a specific hashtag when posting about products on Instagram. This way, potential buyers see real-life customers using the product and can compare it to competitors' offerings.
Authenticity: User-generated content doesn't typically take place in a set or studio and, as a result, feels real and authentic, especially compared to the AI-produced content that's becoming more common.
Trustworthiness and relationship-building: Hashtags and Instagram comment sections allow customers to identify each other, converse, and decide whether to buy the product or save their money.
Faiola says Bramble Berry's target audience of soap-makers share projects and advice on Instagram, often touting the company's products in the process. The result is an authentic online brand presence that makes the products feel more in-demand among young people.
Overall, marketing to a Gen Z and millennial audience requires a recognition that influencers and social media drive purchasing decisions. Whether it's influencers on Instagram or educational content on YouTube, the data shows young Americans decide to buy based on what they see on their social media feeds.
Related articles