As a realtor, I get calls like this fairly often: "I think it's time to find my mother a new place to live."
Maybe it's due to a fall in the shower or on the stairs. Maybe the parent or other family member can no longer care for themselves. Or maybe the house was perfect for a family but no longer makes sense for one person.
This time of life can be emotional and difficult for everyone involved. Getting everyone to agree isn't easy. One common scenario is that the children are concerned, but the parent doesn't want to leave. But every situation is unique, given factors such as health, finances, independence, mobility and memory.
The aging person might just need a smaller home and a little help with cleaning and cooking. Or they may find it helpful to enter some type of assisted living. Sometimes, fuller nursing care is required. And more and more, parents move in with their children or another family member.
Even if it all goes well, family relations and nerves may fray at some point. Stops and starts are often part of the process. And as more Americans live longer, it's likely that adult children will increasingly face the prospect of selling their loved one's home.
As Baby Boomers enter retirement and beyond, over the next 15 years, the number of single-person households with somebody over the age of 80 will balloon to more than 10 million, up from just 4.8 million in 2018, according to the Joint Center For Housing Studies at Harvard University.
Moreover, the Harvard group noted that as of 2018, three-quarters of those 80+ living alone were women. Not surprisingly, those living alone tend to have the most difficulty with daily needs, such as toileting, dressing, going up and down stairs, and cooking.
The good news is that more and more older people can age in place successfully and for longer, thanks to in-home help. We have meals on wheels, grocery delivery, in-home caregivers and rehab, rides to appointments, close-captioned phones, and mobility programs with walkers, wheelchairs and lifts.
Still, there comes a time when all the support isn't enough, and it's the right choice to downsize and find a new place to live while selling the family home.
Here are lessons I can share as a realtor for helping families make the transition.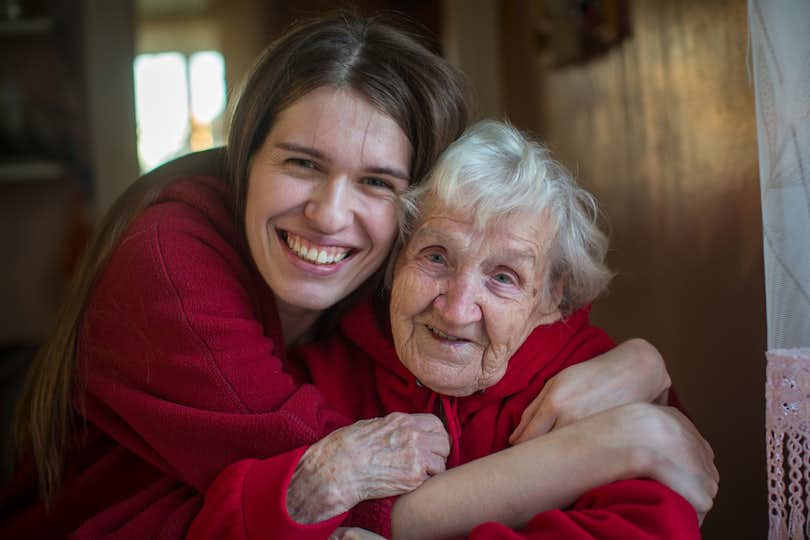 Selling is hard on the aging person (and their family)
If you're in Gen X or Y, you've probably already bought a house and maybe sold one as a move-up. Baby Boomers have probably repeated the process several times. But the tail end of the Greatest Generation, those in their 80s and 90s, may have had a different experience.
Their generation, who returned after World War II to settle down and have families during the Baby Boom, didn't move as much as our generation.
Work was a lot more stable, with less jumping to another job. Manufacturing jobs offered overtime if wanted, and unions supported good benefits and pensions. Many people felt a sense of loyalty.
So, "30 and out" jobs were typical. Hence, the 30-year mortgage became popular. You stayed at the job for 30 years, and by the time you were ready to retire, your mortgage was paid off. In addition, the traditional division of labor, with men at work and women as stay-at-home moms meant men usually took care of the finances, including buying homes and mortgages.
Most men left their wives off mortgage applications because, in those days, banks might ask if a woman planned on having children, assuming they would be out of the workforce and no longer have income.
For women of that generation, the selling process can be overwhelming. I can't tell you how many times I have heard aging clients tell me: "I don't know a thing about our finances. I just let my husband handle it all."
Times have certainly changed. But these older people need help with the blizzard of paperwork, signatures, disclosures, meetings, contractors to fix up the house, title companies, inspectors, and appraisers.
As an adult son or daughter of such a parent, you should be prepared to explain the process many times, and have to walk through and repeat those steps on a regular basis. Help them by preparing them for what comes next in the process, what to expect during the listing process, home showings, the contract phase, and the closing phase.
Make sure they understand each step and also feel included in the decision-making. Remember, they are for all intents and purposes losing control of their biggest and most familiar asset.
Consider partnering with a realtor who regularly works with elderly homeowners and has the designation of a Seniors Real Estate Specialist. They are trained to work with seniors.
» RELATED: Step-by-Step Guide to Help Aging Parents Downsize
Parting with possessions is just as hard as selling
We've all heard the stories of hoarders. If you have parents like mine who came of age in World War II or even the Great Depression, you know exactly what I'm talking about. They come from an era of rationing, saving up, making do, and never throwing anything away, because it might be used for something someday.
Being unable to part with anything makes decluttering a house prior to sale a time-intensive operation full of frustration, indecision and emotions. (I know this well, as I couldn't even get my mom to part with canceled checks from 1985 because "we might need them for our records.")
As always, part of this stems from the loss of control that happens as we age. Fewer and fewer decisions become their own. Their adult children sometimes have power of attorney over their finances. So what's left? Their home's possessions.
Deciding what to keep and what to throw away becomes one of the few places they may have left to exercise some form of control. Keep this in mind when trying to move a parent or older loved one into a new smaller home or assisted living.
A third party can help if hoarding vs. discarding becomes too difficult and emotional within a family. You can get free or low-cost help from charity organizations, county or city aging programs, or the federal government.
Memories make it that much harder to leave
Parting with a home is even harder if it's been in the family for a long time, perhaps several generations. I always tell my clients that owning a home helps you set down roots, and that creates memories that are hard to duplicate in a rental.
Nearly every corner of a family home will trigger memories. It's a kitchen where holiday meals were prepared, a living room with a crackling fire, a backyard where your kids played, or a bedroom where your baby took her first steps. Maybe it's block parties and barbecues. All those moments add up.
Some memories may be painful. Watching a spouse take their last breath in home hospice. A spot in the yard where a beloved pet was buried. A police car pulling into the front yard and an officer coming to the door with his hat in his hand (or several with a warrant and handcuffs). Or a servicemember in dress uniform and a member of the clergy with the worst news possible a parent or spouse with a family member on active duty can receive.
If you have that many memories, rest assured your aging parent will have double or triple them. So tread carefully. Saying "you'll make new friends and memories" at their new home can be a tough sell. The familiarity of what is can be outweighed by the fear of what is to come.
Again, local departments on aging often have social workers available for no-cost or low-cost who can make referrals and help you and your elderly loved one with the transition.
Be patient with your parent – and with yourself. This transition takes time, love, and courage.
Related articles