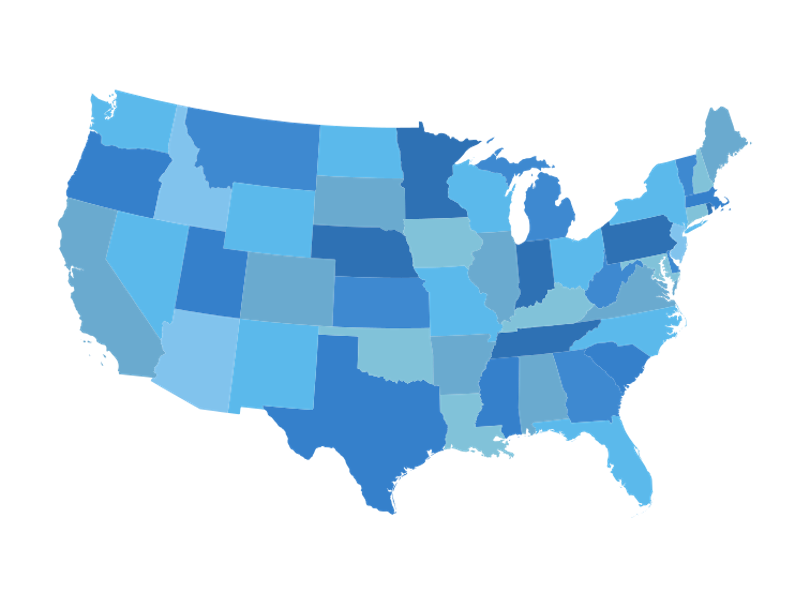 From sea to shining sea, where Americans choose to live tends to be an individual decision based on a lot of factors. Though a recent survey found that most people are satisfied with where they live, it doesn't mean they don't think about where else they may — or definitely don't — want to live.
When browsing home listings in other locations, Americans consider everything from the cost of living to job availability. As they contemplate living in one of the 50 most populated cities in the United States, people also factor in proximity to amenities such as restaurants, entertainment, and schools — as well as the safety of their neighborhoods.
>>OUTSMART THE MARKET. Get Clever Real Estate's free weekly newsletter for homeowners, buyers and sellers.
Home Bay surveyed 1,000 Americans in 2022 to find out where they live and where they'd most and least like to live in the United States. Here are the 10 most and least desirable cities to live in the U.S. based on those findings.
Most Desirable: 10. Tampa
Located on Florida's Gulf Coast, Tampa is known for its parks, museums, and the world's longest sidewalk. This coastal city is also a prime area for nightlife and fine dining, making it a fun place for young professionals.
Plus, according to the National Association of Realtors, Florida is home to the largest number of real estate agents, meaning you would have plenty to choose from when buying or renting a new home.
Most Desirable: 9. Nashville
Famous for being the country capital of the world, Nashville is also home to several higher education institutions, including Vanderbilt University. Located in north central Tennessee, Music City USA residents experience a mixture of mild weather and all four seasons.
Beyond its vibrant downtown — complete with iconic locations, such as the Grand Ole Opry and the Country Music Hall of Fame and Museum — new residents can also make their home in one of Nashville's popular suburbs. The city itself and surrounding areas are particularly popular with millennials and Gen Z.
Most Desirable: 8. Miami
When it comes to warm weather, beautiful beaches, and energetic nightlife, Miami has it all. Located near the southern tip of Florida, it's 159 miles from Key West and 103 miles from Cuba. Plus, it boasts the world's largest cruise ship port, making it a premium point of origin if you love to travel by sea.
Miami and its surrounding communities consistently have some of the hottest real estate markets in Florida, giving buyers a solid return on their investment. With it being a premium living destination, Magic City's population continues to grow.
Most Desirable: 7. Denver
The Mile High City may have had its starts as a Western mining town, but today it is a bustling metropolis with a downtown skyline to rival the picturesque Rocky Mountains. With a low unemployment rate and strong economic growth, Denver is a growing city, bringing in more businesses and commerce.
The Denver housing market continues to be equally strong, with property values continuing to increase. Buyers can expect to have a solid return on their investment when they eventually sell. Among those surveyed by Home Bay, Denver was most popular among boomers and millennials.
Most Desirable: 6. Phoenix
Home to more than 160 golf clubs and 185 golf courses and an average temperature of 75 degrees, Phoenix has the fastest-growing population in Arizona. An oasis for outdoor recreation areas and top-rated hotels and spas, the city welcomes thousands of tourists every year.
Home buyers can also take heart in knowing that Phoenix property values increase an average of 17% annually. Unsurprisingly, all of this makes it the best overall real estate market in Arizona for investors.
Most Desirable: 5. San Francisco
Alcatraz, Golden Gate Bridge, and the rolling hills of beautiful Victorian homes as seen in the opening credits of Full House, San Francisco has long been a beacon for good food, views, and nightlife. The city is rich with history dating back generations, and the sourdough can't be beaten.
According to Home Bay, San Francisco was the most desirable city for Gen Z, who tend to look for large cities with bigger job — and dating — pools. Plus, the nearby Oakland area is one of the best places for real estate in California.
Most Desirable: 4. Los Angeles
Brushing elbows with celebrities at restaurants, driving up the California coast, and enjoying warm weather year-round make Los Angeles a popular tourist destination — and the fourth most desirable city to live in.
The San Gabriel Mountains offer plenty of outdoor recreation, and multiple sports teams, music venues, and museums make it an entertaining place to be even outside of the glitz of the famed film and TV industries.
Most Desirable: 3. San Diego
With 70 miles of pristine beaches and some of the best weather you can find on the continental U.S. year-round, San Diego is a beautiful place to set some roots. Home to one of the top-ranked zoos in the world and ideal surfing conditions in La Jolla, San Diego has plenty to offer for families and singles alike.
The city also has a high portion of its land allocated to parks and recreation, with 19% of the city reserved.
Most Desirable: 2. Seattle
One of the original locations of the tech boom, Seattle continues to be a thriving West Coast city. About 21% of Americans named Seattle as one of the most desirable cities in the U.S. And it continues to draw new residents. Of the top five most desirable cities on this list, it is the only one to see population growth during the past five years.
The Emerald City hosts plenty of entertainment, from major museums and concert venues to sporting events and outdoor recreation. Like San Diego, the city is also home to open spaces with 13% of the land allocated to parks and recreation.
Most Desirable: 1. Virginia Beach
Step aside Miami and San Diego, there's an even more popular beachfront city. Americans voted Virginia Beach as the most desirable — and most underrated — city in the U.S. With 35 miles of coastline, Virginia Beach offers coastal living at a fraction of the cost of other, more famous cities.
>>TIRED OF BAD MOVES? Check out the best moving companies in your area and get free quotes.
Plus, buying a home there is affordable. It's the only city on the top five list with price parity below the national average.
Least Desirable: 10. Phoenix
Though it also appears on the list of most desirable cities, Phoenix also came in at 10th place for the least desirable city in the U.S. Despite the appeal of its mild winters, the hot summers can be brutal.
And while the increasing home values can make buying a house in Phoenix a good investment, the high prices can also make it difficult for first-time buyers to break into the market.
Least Desirable: 9. Washington, DC
Home to the White House, both houses of Congress, and famed monuments, our nation's capital is a popular place to visit. But it is less popular for living.
With a reputation for high crime rates and high housing costs, people who work in and around Washington D.C. are more likely to settle down in nearby Maryland and Virginia.
Least Desirable: 8. Dallas and Milwaukee (TIED)
Sharing the spot for No. 8 least desirable cities to live in the U.S. we have Dallas and Milwaukee.
They say everything is bigger in Texas, and that includes people's dislike of the weather. Like much of Texas, Dallas has brutal and boiling temperatures for part of the year, and has seen more frequent ice storms in recent years, making the weather polarizing and unpredictable. And while Dallas shares the No. 8 ranking, that hasn't stopped people from moving there. With crime rates and home prices below the national average, the city has seen a growth in new residents during the past five years.
Speaking of extreme weather, Milwaukee is known for extreme winters that would make Santa feel right at home. While property values are more affordable than in other major cities, property taxes are higher than anywhere else in Wisconsin.
Least Desirable: 7 Seattle
Seattle joins the ranks of other cities that made it on both the most and least desirable cities to live in lists. Unlike those other cities, though, Seattle had more lovers than haters with 21% of Americans ranking it one of the best places to live and only 16% putting it among the worst.
There is a good reason for caution when it comes to living in Seattle. The cost of living and housing prices have steadily increased over several decades, making it an expensive place to live.
Least Desirable: 6. Chicago
The Windy City has a lot to offer: world-class museums, lakefront views, and pizza. But that isn't enough to make most Americans want to move to Illinois.
Ranking Chicago as least or most desirable is almost as divisive as deciding whether to be a Cubs or White Sox fan. While Chicago had the most No. 1 votes of any city in the Midwest, it also had significantly more people listing it as the least desirable, with 28% down-voting it.
Least Desirable: 5. New York City
Start spreading the news, New York City takes the number five spot on least desirable city to live in the U.S. It's a popular desired destination for Gen Z, who appreciates its diversity.
While you can live in slightly more affordable locations across the river in New Jersey, the high cost of living, crowds, and crime rate dropped the city that doesn't sleep in the ranking.
Least Desirable: 4: Detroit
Not only is Detroit the fourth least desirable city to live in, it's also the No. 1 least desirable in the Midwest. It's not too surprising given the city's claim to infamy. With bitterly cold and wet winters, the city also has a poor reputation for safety, with 513 violent crimes per 100,000 residents reported annually.
It isn't just Americans who seem to have lost love with Motor City. More than 58,000 residents have packed up and moved on to other places in the past five years.
Least Desirable: 3. San Francisco
While there's so much to see and do in San Francisco — making it one of the most desirable cities in the U.S. — all of that comes at a cost, which also lands the Golden Gate City at No. 3 on the list of least desirable.
With the high cost of living among the top reasons for making a city undesirable, it's unsurprising to see San Francisco back on the list. At $1.6 million on average, home values are 2.5 times higher than elsewhere in the U.S., and the cost of goods is 17% above the national average.
Least Desirable: 2. Birmingham
Buying a home in Birmingham might seem ideal for first-time buyers with homes selling for 45% less than the national average. That bargain real estate price comes at a cost, making it the least desirable city in the South.
While known for its history in manufacturing, Birmingham has a poor reputation for safety. There are 1,577 violent crimes per 100,000 residents, which is a rate even higher than in cities like New York and Los Angeles.
Least Desirable: 1. Los Angeles
While nearly one in five Americans say Los Angeles is the most desirable place to live in the U.S., 27% called it the least desirable. Though the bright lights of Hollywood might be appealing, they're hard to see through the smog and overpriced cost of living, which is 12% above the U.S. average.
And while the Hollywood hills are home to iconic homes frequently featured on TV shows, buying a house may be a far reach for most people. The average price of homes in L.A. is $1 million, more than twice the average nationwide. Plus, the unemployment rate is 25% higher than in the rest of the U.S., contributing to a mass exodus from the city during the past five years.
Most Underrated Cities
Home Bay also asked Americans to list the most underrated cities. Here's how they ranked:
10. Nashville, Tennessee
9. Denver, Colorado
8. Charlotte, North Carolina
7. San Francisco, California
6. Milwaukee, Wisconsin
5. Richmond, Virginia
4. Salt Lake City, Utah
3. Seattle, Washington
2. Phoenix, Arizona
1. Virginia Beach, Virginia
Most Overrated Cities to Live
10. San Diego, California
9. Houston, Texas
8. Washington, D.C.
7. Seattle, Washington
6. Las Vegas, Nevada
5. Miami, Florida
4. Dallas, Texas
3. New York City, New York
2. San Francisco, California
1. Los Angeles, California