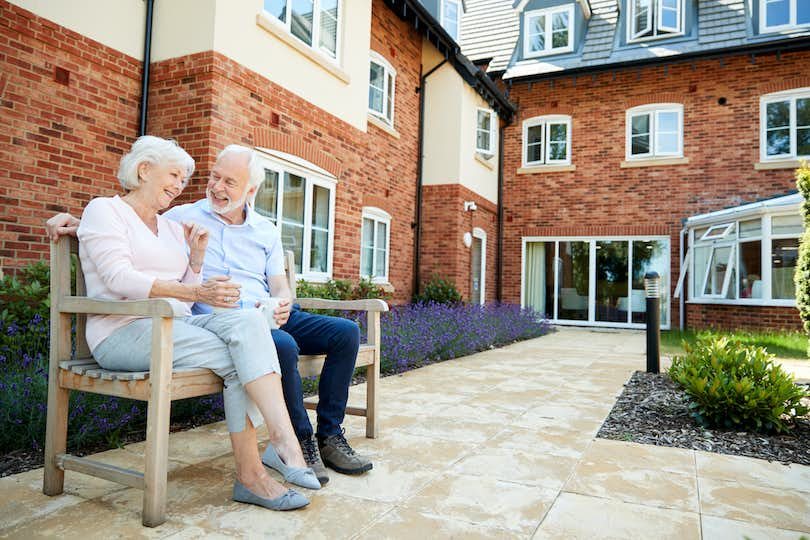 Are you looking for a place you can comfortably retire?
The term "retirement community" covers many different types of housing. It can include age-restricted developments, active senior communities, lifestyle-based communities, and independent living.
While different retirement communities cater to different people, they all help seniors enjoy their retirement as independently as possible.
We will look at the different retirement choices available to help make this difficult decision easier.
You'll also learn everything you need to know about retirement communities. Let's dig in.
What Defines a Retirement Community?
A community created just for seniors is a retirement community. They will typically offer the following:
Amenities seniors want
Conveniences like stores or restaurants
Units will have features designed to make everyday living easier
They will be a secure housing choice
They will promote community and friendship
They will have age restrictions for who can live in the home
Different Retirement Communities
There are four basic types of retirement communities. These are:
Age-restricted
Assisted Living
Independent Living
Lifestyle Communities
Age-Restricted
These communities are marketed to people over a certain age. These could be 50+, 55+, 60+, or a different starting age, and you normally have to meet that requirement to live in the community.
Typically, there needs to be one person living in the home that meets that requirement.
Someone under 19 cannot be a permanent resident in an age-restricted community like this. The Fair Housing Act and the U.S. Department of Housing and Urban Development regulate these homes, requiring 80% of units to have someone of the right age when they are described as "age-qualified."
Communities that don't have strict restrictions but market to a certain age range are called "age-targeted."
Many retirement communities have been built over the last decade, offering seniors an excellent housing choice. Many seniors make it their last housing choice until they potentially need assisted living.
Retirement communities come in different forms of housing, from condos to townhouses and single-family. Most choices offer one-level living, so there are no climbing stairs. Many also have features that cater to seniors, such as walk-in showers, higher toilets, hand bars, and wider doorways.
Assisted Living
For seniors who require some help in their lives, care is provided in assisted-living communities. The seniors will have their accommodation, like an apartment or a single-family home, but help with everyday tasks that they now find more difficult.
Examples include transportation, meal preparation, help getting dressed, etc.
Some communities specialize in dealing with certain diseases, like dementia or diabetes. Even though they might specialize in assisting seniors with particular conditions, they aren't healthcare providers.
Independent Living
For seniors who live an active life, independent living communities allow them to live independently. They can live in any type of home, but the retirement community will have restrictions on the age of residents, like over 55 only.
Lifestyle Communities
These retirement communities allow people with similar backgrounds, interests, or housing requirements to live in the same community. These can include:
Faith-based
Golfing
LGBTQ+
Artist Communities
Luxury apartments
Cooperative housing
How to Choose the Right Retirement Community for You
You need to consider some things to make sure you move into a community you will love living in.
Location
The location will be essential to remain close to friends and family. While they might provide most of the things you need daily, you might also want to stay near a place of worship, recreation, or doctor.
Care
Assisted living might be a better option if you need help with daily tasks. Even if you are currently very active and want to choose an independent living community, some will offer assisted living in the same community.
This will allow you to avoid moving home when you need more care.
Cost
Living in a retirement community isn't cheap; your choice must reflect your finances. If you have sufficient funds, there are luxury communities for active seniors and continuing care retirement communities (CCRCs).
A CCRC will offer many amenities and onsite medical care when you need it without having to move again.
If your income is fixed, a CCRC is still an option. There is a one-off fee to buy the living space and monthly fees to cover housekeeping, maintenance, and food.
There is affordable senior housing if your income is lower. There are HUD programs and nonprofits providing housing for seniors with lower incomes.
Why Do You Want to Move?
If you decide that now is the right time to move into a retirement community, the reason for this decision should guide your choice of community.
What do you want to gain from your move? Write down a list of things you want from your retirement living to make it easier to find the right community.
There are numerous things to do before committing to moving. Due diligence will be essential when choosing your housing for the remaining years of your life.
How Can I Find Retirement Communities Near Me?
A simple internet search for "retirement communities near me" should give you some good ideas about what is available in your local area.
You can add the city or county to narrow your search down further. If you are looking for a particular type of community, add that to your search too.
There are several popular websites to search for homes that offer specialized searches, like a retirement community.
While starting to search on your own can be valuable, finding a local buyer's agent to work with will be crucial.
They will be able to understand your needs and wants. By having a thorough knowledge of what you're looking for, they can then begin to find the best match.
Once you have found a home you love, they will guide you through the retirement community buying process. An agent can also help you with valuable research into the community to ensure you're making the best choice.
When you decide, they can help you choose the best lender for your needs. Maybe you are interested in a 30-year fixed mortgage. Some seniors will consider a reverse mortgage if they no longer work and qualify.
You might go with a local bank, or there might be better loan choices with a mortgage broker. A good agent will be with you every step of the way.
There is a lot to know about retirement communities, so do your homework.